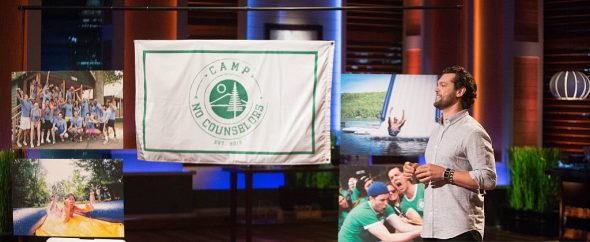 Adam Tichauer hopes a Shark likes Camp No Counselors, his summer camp for adults, when he pitches the concept in Shark Tank episode 722. The business uses "traditional" summer camp settings after the kids go home for the season and puts grown-ups in the cabins to re-live the camp glory days of their youth. Camp experiences include traditional summer camp fare from games to campfires to talent shows. There are also adult amenities like hot tubs, co-ed cabins, and open bars.
The Genesis of Camp No Counselors came when Tichauer wanted to get a group of his old friends back together for a weekend outing. He contacted a summer camp in upstate New York to inquire about renting the place for a weekend (after the kids had vacated). After assembling two busloads of friends and friends of friends, the group descended on the camp and proceeded to have the time of their lives. After organizing several more weekends, he realized he had a business and began making plans.
Now, Camp No Counselors operates in 9 metropolitan areas. Campers go the entire weekend without wifi or cell phones and connect in ways most of them haven't done since they were kids. The cost to attend is anywhere from $550.70 – $626.92 and he offers discounts to groups of four or more. He claims the communities and networking opportunities formed at the camps extend beyond the weekend. The business has a lot of buzz and positive press and caters largely to the under 40 crowd, though plans are in the works for "over 40 only" sessions. He likely needs a Shark's capital to expand his growth exponentially as he's maintained a slow growth approach in the early stages of the business.
Will a Shark set up  camp and invest in this business?
Camp No Counselors Shark Tank Recap
Adam comes on to the Tank seeking an investment of $300,000 in return for 7.5% of Camp No Counselors. He presents the concept, and hands out s'mores to the Sharks, accompanied by mimosas.
The Camps are currently located in New York City, LA, Chicago, and Nashville. The cost of the weekend is $478 per adult, and the average age for campers is 30. Adam explains that they rent the camps during the off-season, and work with each camp's existing infrastructure, including staff, so the camp earns off-season income, and his only cost is the rental, including staff salaries, plus marketing.
Kevin O'Leary remembers being a camp counselor, taking kids canoeing. "Here is what I learned," he says. "It sucks. There's a lot of insects, you get eaten alive, it's tough work. Today, I like a mint on my pillow when I go to bed. I don't want to be anywhere near a camp. I don't know why these people would do this."
Kevin may not be the ideal partner for Adam, but Robert Herjavec wants to know more about the business.  In the past year, Adam held 4 camps, and sales were $160,000. In the upcoming year, he plans 11 camps, with 1,800 visitors, with sales of $730,000 thus far. Sales are projected at $800,000, with a profit of $165,000. The profit is approximately $200 per person. He's looking into creating corporate retreats to grow sales.
Kevin O'Leary wants to know if Camp No Counselors is a proprietary concept. Adam explains that he's built a large following and is a recognized brand. Although Kevin sees "nothing wrong" with the business model, he says that he has a rule with his Shark Tank investments- that he'll use the products he invests in. Since he "hates camping," he's out.
Mark Cuban wants to know why Adam needs a Shark. Adam replies that he needs capital to expand into new marketing. Robert, Mark, and Lori all respond that, with the current cash flow, he doesn't need cash for growth. Daymond John accuses him of "gold digging." He doesn't believe Adam needs anything from the Sharks.
Adam wants to build something like a Tough Mudder or Color Run, which he'll eventually sell out to licensing. Daymond wants to profit "every year or every quarter," He's not interested in a long-term sell out investment, so he's out. Robert Herjavec likes the idea, but he doesn't feel he can bring value to the table. He's out.
Mark Cuban is the last Shark standing. He tells Adam that his valuation is too high, and makes an offer of $300,000 for 25%. Adam says the only way he'd go that high is if all the Sharks came on board. The Sharks are unimpressed, and refuse, leaving Adam high and dry with no Shark deal.
Camp No Counselors Shark Tank Update
The Shark Tank Blog constantly provides updates and follow-ups about entrepreneurs who have appeared on the Shark Tank TV show. Once an episode has aired, we monitor the progress of the businesses featured, whether they receive funding or not and report on their progress.
Although Adam didn't get a Shark to bite on his questionable valuation and overly ambitious ask, he is definitely reaping the rewards of the Shark Tank Effect, with his e-mail, Facebook, and webpage being overwhelmed with questions and interest. Soon after the show's airing, he posted a blog asking interested customers to be patient, with a pledge to get back to them "within 10 business days."
Since appearing on Shark Tank, Camp No Counselors has expanded to 10 markets; Austin, Boston, Chicago, Los Angeles, Miami, Michigan, Nashville, New York, San Francisco and Toronto. It seems that, even without a Shark deal, Adam is camping out in the foothills of success.
The Covid-19 pandemic essentially shut this business down for 2020. Even with no camps running, the company did not furlough anyone during the year. They plan to run camps in 2021 with stricter than the CDC Guidelines. Annual revenue before lockdowns was $2 million. In July, 2022, they are "back to normal" with summer camp experiences in the greater New York City and Los Angeles areas. They also added wedding packages, production retreats, MBA retreats and company retreats. Many major companies have held retreats with Camp No Counselors, including Shark Tank alumni Bombas. As of October, 2022, annual revenue is $3 million.
Posts About Camp No Counselors on Shark Tank Blog
Camp No Counselors Company Information
Video