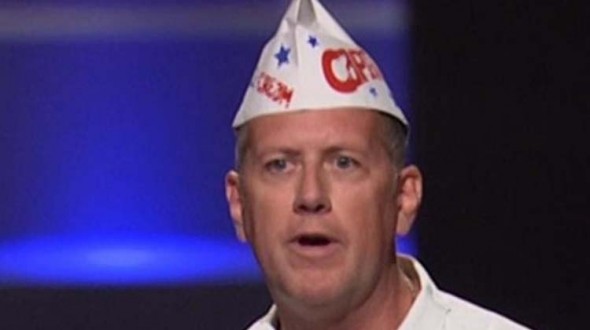 Entrepreneur and founder of Captain Ice Cream, Tim Gavern, pitched his mobile ice cream business to the sharks in Shark Tank episode 114. Tim comes from a long line of ice cream entrepreneurs, his mother and grandmother both owned and operated Ice Cream Parlors. He wasn't actually working in the ice cream industry when he came up with the idea of Captain Ice Cream. He was working in the publishing industry and it had started to down turn. He needed a way to find money, and ice cream just came naturally to him. He currently has 1 van and 1 moped. He will be looking to the sharks for an investment so he can improve and start franchising his ice cream business.
Captain Ice Cream Shark Tank Recap
Tim came into the tank seeking $48k for a 25% stake of Captain Ice Cream. He actually rode into the tank on his moped. He lets the sharks know upfront that he is intending to franchise his company. He reveals that he owns the Trademark "Captain Ice Cream." It is also revealed that he only makes $200 a day, working a 4-hour shift. He says that he is going to use the money to build a couple more mopeds.
Kevin O'Leary is displeased with the fact that he only $200 dollars in 4 hours and that his profit is half of that. Kevin O'Leary also doesn't see the investment opportunity and feels that anyone can create this business. He is out. Daymond John likes the business, but he's out. Robert Herjavec believes that Tim as a long way to go be for Captain Ice Cream is really profitable. He is out. Kevin Harrington says that because there is no franchise company, he is out. Barbara would happily buy ice cream from him, but he was to early and too unprepared. She is out. Result of the pitch: No Deal.
Captain Ice Cream Shark Tank Update
Since airing on Shark Tank, Captain Ice Cream was offering franchise options of the mobile ice cream business and as of mid 2014, they were offering franchises that include the Moped. They were also offering franchises that include the Moped and the Custom Ford Transit Connect vehicle. They didn't come super cheap though, the Complete kit without the van was $12,495 and it included The Moped, 1 Umbrella, 1 Uniform, 500 Business Cards, and a 1 year royalty fee of $2495. The Complete kit with the van included everything the other kit has plus a custom 2010 Ford Transit Connect. It costs $44,495 to start-up. Keep in mind that these prices did not include delivery, additional options, license, health department inspection costs, state sales tax and city business licenses.
Even though the franchise was advertised as available (as of June 2014), the Captain Ice Cream Website is down and no further information is available.