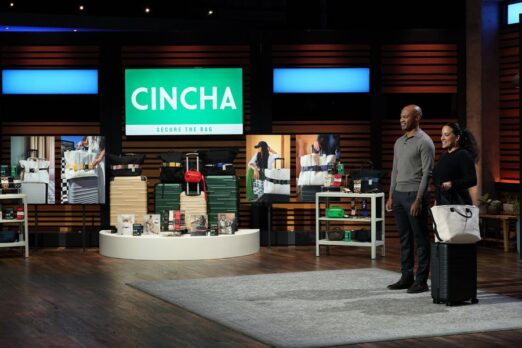 James H. Baker and Ashley M. Sharma seek an investor for Cincha, their travel belts that secure carry-on bags to luggage, in Shark Tank episode 1420. Both Baker and Sharma are seasoned travelers. Sharma's dad was actually an airline pilot, so she has lots of "airporting" experience. They created Cincha back in 2019 to help travelers secure smaller luggage to their "main" piece of luggage, thus avoiding bags tumbling to the floor. They also make bags with built in belts.
The couple both have "regular jobs in addition to running their business. James is a Civil Rights attorney and Ashley is a marketing executive. They started the business out of their apartment in Oakland, California. The company, in addition to making travel a little more bearable, donates 100 frequent flyer miles per purchase to Miles4Migrants, a non profit organization that reconnects seperated migrant families.
As for the products, the travel belts cost $35.99 and come in a variety of colors and patterns. Their mini travel belt is $31.99. The travel belt bag which includes a Cincha strap attached to it costs $35.99. A storage pocket for the belts is $16. They can be purchased from the company website or Amazon. The couple likely wants a Shark's help with inventory and marketing.
Company Information
Posts about Totes Babies on Shark Tank Blog
Cincha Shark Tank Recap
James and Ashley enter the Shark Tank seeking $200,000 for 15% of their company. They both talk about the hassles of traveling with bulky bags. James shows a bungy strap, but Ashley dismisses it because they don't work. They introduce Cincha and as James tells how it's the first strap of its kind, Ashley attaches her personal bag to her rolling bag.
The Sharks examine their sample belts. Lori thinks it's heavy duty and good quality – almost like a seatbelt in a car. Gwyneth wants to know their backgrounds. James grew up homeless as the oldest of seven. Success was not going to jail and getting a job. His parents never let him feel sorry for himself or use his circumstances as an excuse. At age 16 he got off the streets into section 8 housing, at 18 he was off to college and by 21 he was at Harvard Law School. The Sharks applaud him. Fast forward a few years and James felt like he had the luxury to take a risk and still land on his feet – something his parents never had.
Ashley grew up in San Francisco to two immigrant parents. She grew upm in a one bedroom apartment because her parents thought investing in their children's education was the most important thing. School was a struggle for Ashley because she was speaking English but thinking in Spanish. In college, she studied marketing and went to work for startup CPG brands.
Mr. Wonderful wants to know numbers. In 2109, they had $5000 in sales, in 2020 it was $32,000 (sales were poor due to travel shutdowns for Covid-19), in 2021 they had $250,000 in sales and year to date in 2022 they have $830,000 in sales. All sales are direct to consumer. Each belt costs $4.61 landed and they sell for $40. Customer acquisition cost is $27.50-$29 with an average order value of $61.50.
One of the reasons they're in the Tank is they want to get into airport stores and other retail. It's just the two of them running the business while they both work full time. Gwyneth says she's super impressed with the product and she loves them both but she's out. Mark doesn't believe it fits his stregnths, he's out. Lori has a partner in a business that makes something similar, she's out. Barbara says people who experience hardship make the best entrepreneurs. She thinks they're past the first hump, but James thinks the right partner could accelerate growth. Barbara offers $200,000 with $100,000 of that as a credit line for 33%.
Kevin finds the model attractive. He offers $200,000 for 20% with a $4 royalty until he gets his money back, then the royaltty drops to 50 cents in perpetuity. James counters Barbara at 25% and Barbara asks Ashley if she can have James as her third husband. Ashley say "take him."Barbara accept their counter offer of 25% and they do the deal.
Cincha Shark Tank Update
The Shark Tank Blog constantly provides updates and follow-ups about entrepreneurs who have appeared on the Shark Tank TV show. The first re-run of this episode in July, 2023, is a little over three months after the original air date. At this time, there is no evidence the deal with Barbara has closed. On show night, Barbara Tweeted:
Welcome to the family, #CinchaTravel! Two hardworking, incredible entrepreneurs! I'm proud of you both. #SharkTank @ABCSharkTank
The Shark Tank Blog will follow-up on Cincha & James H. Baker and Ashley M. Sharma as more details become available.