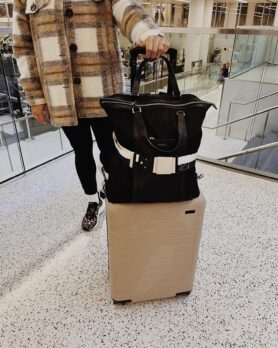 People who travel a lot like, Cincha Travel Belts founders James H. Baker and Ashley M. Sharma, like anything that makes traveling easier. That's why they created their product. When traveling, both of them were tired of wranging both a carry-on and their rolling luggage. Cincha Travel Belts are basically a belt that straps your carry-on to the handle of your rolling luggage. There's no slipping or toppling – it stays there secure as can be.
The belts come in dozens of colors and patterns, they even have a small travel bag with a built in belt. There are two sizes: regular and mini. They cost $35.99 and $31.99 respectively. They offer mongramming for an extra charge. A portion of every sale provides 100 frequent flyer miles to Miles4Migrants, a non profit organization that reconnects seperated migrant families.
The couple runs their business out of their apartment while holding down full time jobs. They don't have any patents either. They likely want a Shark to help them get out of their apartment.
My Take on Cincha Travel Belts
I've used bungee cords in the past to accomplish the same thing. I even used my own belt once. It's a handy way of keeping things wrapped up tight while traveling. The problem I have with this is the price. For $36, I could get two of the many knock-offs found on Amazon. They need to have a lower price point for me to get excited about this.
Will Sharks Travel?
The Sharks will have the same objection as me. This isn't a proprietary product. Cincha Travel Belts are basically a branding exercise. A quick search on Amazon shows dozens of similar products and most of them are under $20. Maybe their social angle rings true with their customers, But will it at twice the cost? Unless Ashley and James are giving up a generous stake in their business, I think they'll leave empty handed.