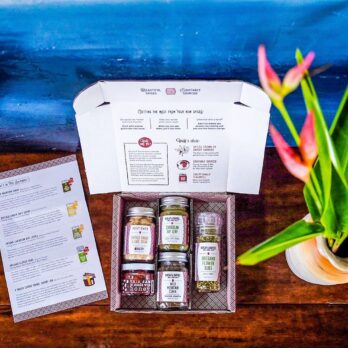 Burlap & Barrel founders Ori Yosef Zohar and Ethan Frisch decided to get into the spice business back in 2016 when Ethan started bringing wild cumin back from his trips to Afghanastan. As previous food entrepreneurs, they were well awar of the "fair trade" movement and the growing concerns people were having about where their food is sourced. That movement hadn't come to spices, so they started a business importing spices.
Their previous food business was a non profit ice cream business called Guerilla Ice Cream. Profits were donated to street vendor advocacy. Now, they source their spices directly from small farmers all over the world. They deal with farmers in Guatamala, Afghanistan, Spain, Vietnam, Tanzania and more than a dozen others. The reulting products are fresh, nuanced and pungent spices.
They pay their farmers fair wages, too. To date, they've paid out over $1.7 million. As for the spices, all the spices you can imagine are in their online store. They also have spice blends from the country of origin. For instance, the spices in their herbes de Provence, a mix of oregano, thyme, rosemary and savory, actually come from Provence. The company recently launched  Wood-Fired Maple Sugar from Vermont and Panela Cane Sugar from Columbia. They probably want a Shark's help scaling the business.
My Take on Burlap and Barrel
I actually have some of these spices. I got them as a Christmas gift in 2020. The "Fundementals" set comes with 2 kinds of chili powder, bay leaves, thyme, paprika, garlic, cinamon, wild cumin and ginger. All the spices are over the top flavorful – far more so than super market spices. The silk chili is AMAZING in chili sauce. All sales are DTC from their website and Amazon.
The spices are a tad pricier than your standard stuff, but the quality is definitely worth it in my opinion. For instance, a jar of McCormick paprika at my local Publix costs $5.49. The Burlap and Barrel version costs $9.99., and blows the McCormick brand's flavor out of the water. I hope these guys get a deal. It's good stuff.
Do Sharks Like Spices?
The one thing this company has going for it, besides a quality product, is sales. They have $7 million in lifetime sales. If they got progressively more sale over the past 6 years, they'll field an offer or two. You can bet "Chef Wonderful" will make an offer, probably with a royalty attached.
I don't think Lori will make an offer and I have no idea what Gwyneth will do. Barbara could bid – the business is based in Queens, so there's the "New York Connection." Mark could too as he has a history of investing in sustainable food businesses and he likes the DTC model.