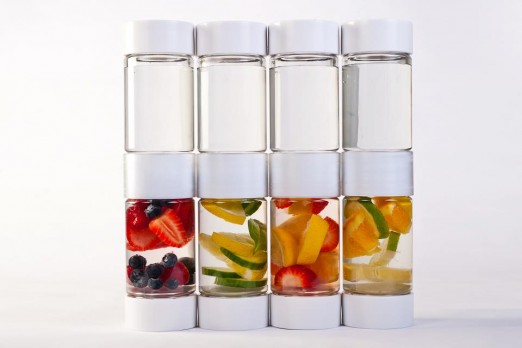 15 year-old Carter Kostler pitches the Define Bottle, a water bottle using fresh fruit to infuse flavor into drinking water, in Shark Tank episode 516 – the Young Entrepreneurs Special. Carter invented the Define Bottle when he was 13 years old and took it from design to prototype in just six months.
Essentially, it's a two-chambered water bottle, separated by a filter. Fresh fruit and water go in one chamber and plain old water for drinking goes in the other. The fruit infused water filters through, making the drinking water flavored naturally. Carter developed the product to helps kids get healthier options for drinking. His goal is "to get an entire generation of children off of soda one school district at a time."
Carter's had a lot of positive press: he was honored by President Clinton at the 2013 Clinton Foundation Health Matters Conference, he's been featured in Forbes Magazine, and Define Bottle made Entrepreneur Magazine's Top 100 Brilliant Companies list. That's a lot of progress for a kid who can't even drive yet!
The Define Bottle sells on Amazon and direct. Carter probably wants a Shark to help with funding for production and mass distribution.
Define Bottle Shark Tank Recap
Carter enters the Shark Tank looking for an investment of $100,000 in return for 20% equity. He explains that the average American drinks 1-2 sodas a day. He hopes to encourage Americans, especially children, to drink more water by flavoring the water with fresh fruit.
In the 4 months since Carter brought the Define bottle to market, he's sold $65,000 worth of product. Sales were split between online through his website and wholesale sales. Whole Foods and David's Teas, a Canadian specialty tea shop, are carrying the Define bottles. Retail price is $30, with a cost of $10. He's talked to a Chinese manufacturer that can bring the cost down to $5 per unit. There are 2,000 hits per day on the website, with a conversion rate of .5%.
Who's In?
Lori Greiner believes there's a lot of competition, and that the price point is too high. She's out.
Barbara Corcoran is shocked by the $300,000 development investment. She likes the product but doesn't think she'll get her money back. She's out.
Kevin O'Leary cites the "tremendous amount of competition," and  believes it's not investable. He's out.
Robert Herjavec is unhappy that David's Teas hasn't made a reorder, but he is willing to make an offer; $100,000, in return for 40% of the company because the risk is so high. Carter asks for a moment to talk it over with his parents.
When he comes back, Carter explains that he believes the company is worth $500,000, and counter offers, asking if Robert is willing to take 30%. Herjavec refuses to accept the counter offer because of the size of the risk.
Mark Cuban feels the risk is too high is well and that the pressure of Carter's parents mortgage involved is too strong. He's out. The last Shark has spoken, and Carter leaves the Tank with no Shark deal.
Define Bottle Shark Tank Update
Although Carter was optimistic leaving the Tank, he later revealed that not getting a deal was, at first, a devastating blow. Instead of letting the setback knock him down, however, he got out and started marketing the Define Bottle again. Before long, he'd landed deals with several major retailers, and sales exploded to $2 million. The real breakthrough came when singer Carry Underwood contacted Carter about doing a design. Her contact got him into Dick's Sporting Goods and Target. He also served for three years as a youth ambassador in The Alliance for a Healthier Generation.
Carter came  back to the Shark Tank during Beyond the Tank Episode 1 in May 2015. The Define Water Bottle was showcased as a success story, and Carter was able to show the Sharks how far he'd come, even without their investment. Like many entrepreneurs, Carter learned as much from failure as from success. He's well on his way to realizing the American Dream, one water bottle at a time.
In 2016, Carter shuttered the business and joined the US Marine Corps. As of February, 2023,  he continues serving as a reservist with the Amphibious Assault Vehicle Fleet.
Posts About Define Bottle on Shark Tank Blog
Define Bottle Information
Video