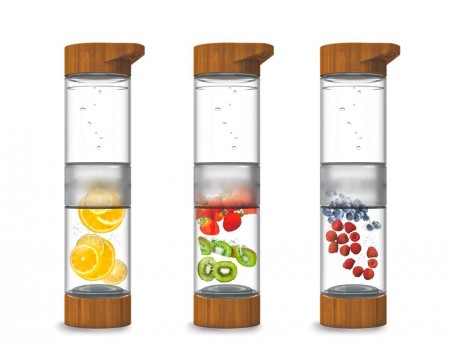 Carter Kostler, the 15-year-old inventor of a fruit infused water bottle called Define Bottle, pitches his business in episode 516 – the young entrepreneurs special. Carter has a dual mission: he wants to sell water battles and he wants to educate other kids about the benefits of drinking from a fruit infused water bottle as opposed to soda.
The concept is simple. The Define Bottle is a two-chambered bottle with a filtering mechanism in between. Fruit and water go in one end, plain water and/or ice goes in the other. When you take a sip, your water is infused with flavor from whatever fruit you put in. Carter enjoyed fruit infused water from a pitcher at home, so he created the Define Bottle to take it on the road.
Define Bottle went from concept to prototype in about 4 months and made its debut at the 2013 Clinton Foundation Health Matters Conference. Carter is a health conscious kid: he's involved with foundations and schools to focus on the fight against childhood obesity and type 2 diabetes. He's received a lot of positive press from Forbes, Entrepreneur, Young Entrepreneur, Fortune, local TV stations in his native Virginia, and dozens of other publications.
My Take on the Fruit Infused Water Bottle
When I first looked this business up, I thought "oh crikey, not another water bottle on Shark Tank." We've seen two other water bottle deals in the past: Clean Bottle and Gobe. I wondered how many iterations of the water bottle the world (or Shark Tank) really needs, but Define Bottle is different. The fruit infusion is a new hook on the water bottle and I bet it tastes good.  I'd put some orange or lemon in mine.
I am not in the market for a new water bottle at the time. I have an aluminum one that looks like it's been through a war, but it still works. Like Cater, I like the sustainability or a re-usable water bottle. The fruit infused water bottle gimmick might get me to grab another water bottle. The idea of adding a little flavor to my water on the go appeals to me. Like Carter, I'm not big on soda as an option. I guess I'm IN.
Will Sharks Infuse Define Bottle with Cash?
Carter is a kid who has it going on. His web design and social media presence blow the other 3 young entrepreneurs away (no offense guys). His whole business has the right feel to it. Whether that transfers into a Shark investment is another story. He's selling on Amazon and from his website, but this is a product that needs mass distribution and marketing. Which Shark is best for that when it comes to products? That's right, Lori Grenier.
The other Sharks may make an offer, but if Carter gets a deal, it ought to come from Lori. It would sell well on QVC and she has big box distribution experience. Carter was demonstrating Define Bottle at a local whole foods, so he wouldn't fear the QVC "stage." I'm going out on a limb and predicting Lori will drink the Kool-Aid fruit infused water on this one and invest.