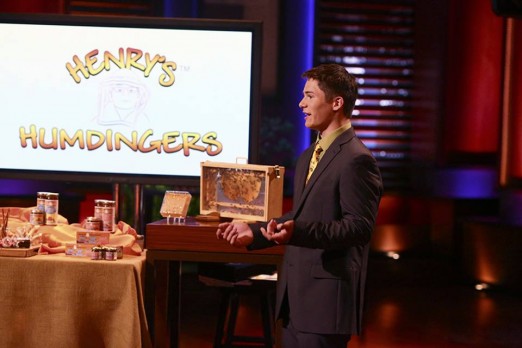 Henry Miller introduces America to his line of spicy honey called Henry's Humdingers in Shark Tank episode 516 – the young entrepreneurs special – on March 14. Henry started keeping bees when he was 12 and before he knew it, he had more honey than he knew what to do with. According to his mother, he knew nothing about keeping bees when he asked for a beehive for his 12th birthday. What Henry did know about is whipping up stuff in the kitchen, his mom says he's always tinkered around with cooking, even as a young kid.
That culinary experience led Henry to create spicy honey with the fruits of his beekeeping labors. He has four flavors: Grumpy Grandpa (with red pepper and garlic), Naughty Nana (with ginger), Phoebe's Fireball (with Chipotle and Cinnamon) and Diabolical Dad (with Habenero and Lime). This stuff aint your grandma's honey for sure! His website is chock full of recipes for everything from sauces to main dishes – even CHEESECAKE. All the spicy honey is raw honey, not watered down or pasteurized like most store-bought honey.
Henry has a lot of distribution for his spicy honey. The product is in 31 states and Washington, D.C. He's in a bunch of Wegmen's Markets, but the others are mostly in mom & pop stores and small chains. The business is a family affair; Henry and his parents work it with him, but it's definitely his "baby."
My Take on Spicy Honey
We rediscovered honey last summer on a trip out to wine country in California. Since then I've been using it in a lot of my cooking. I have a meat smoker and I make a lot of barbecue sauces and marinades with honey. Using spicy honey seems like a good sauce base to me. I'd definitely want to give Henry's Humdingers a try. My mouth was watering when I was reading his recipe section! I am IN!
Are the Sharks Sweet on Henry's Humdingers?
From what I found out about Henry online, he seems like a fine, upstanding young man who is sure to impress the Sharks. Having product in over 300 stores won't hurt either. If you can't find it locally, you can pick some up on Amazon. This seems like a different enough product with enough demand that it could interest any one of the Sharks.
I'm not sure Lori could sell it on TV, but she has food products in her "Shark Tank Portfolio." Barbara has foods too, so she might jump in. Mr. Wonderful will likely make one of his increasingly tiresome royalty offers (Henry would be foolish to take him up on it). Robert and Mark usually don't go wild for food products, but Henry has production, packing, and distribution figured out, so they might take a flyer too.
Henry probably wants a Shark to get him into some national, big-box chains and I think he scores a deal. He recently redesigned his packaging and he's in the midst of upgrading his online store – two signs of a Shark investor. Whatever happens, Henry is going to be up to his ears in orders for his spicy honey in the weeks following his air date.