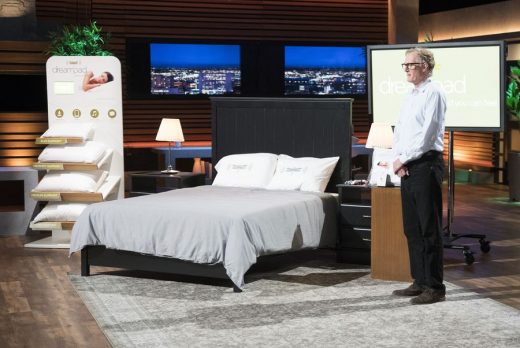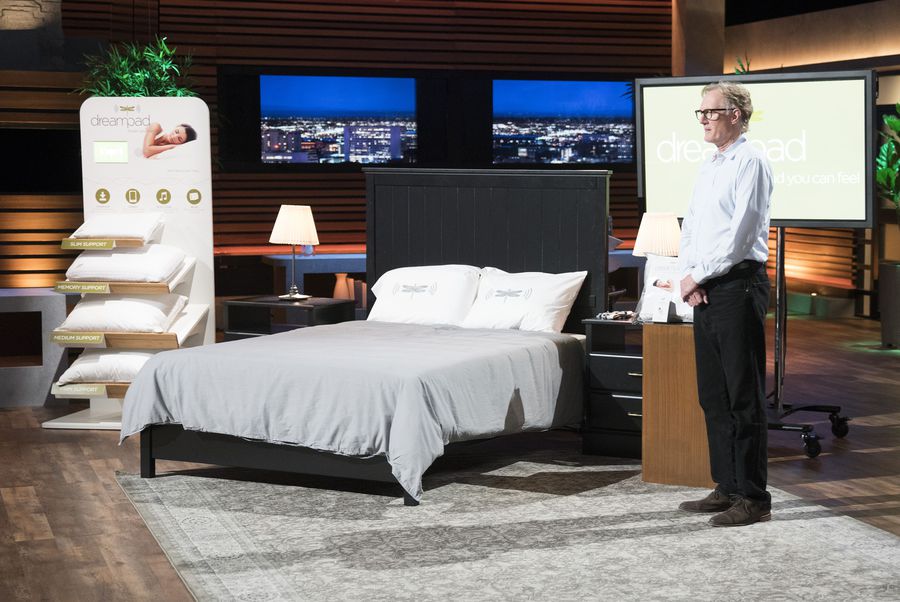 Randall Redfield, CFO and co-founder of Integrated Learning Systems, pitches his company's hot product – the DreamPad, in Shark Tank episode 905. The DreamPad is a pillow that, when coupled with its smart phone app, delivers music through vibrations in your inner ear. Unlike playing music (or white noise) through a speaker, the music or sounds are literally pumped straight into your brain.
Integrated Learning Systems (ILS) is a company that trains therapists and educators to use sound and movement therapy techniques. They originally created the DreamPad to soothe autistic children. Parents loved how well it worked and started asking for an adult version. In 2016, the company launched as a more mass market product.
Each DreamPad comes with a pocket for a smart phone with a jack in it. The sound plays through your phone or you can get an optional bluetooth speaker. You can play your own music or use the app which has ten songs "specifically engineered for deep sleeping." ILS did their research with several third party research firms to gauge results on people with ADHD, Autism, PTSD & seniors and adults with stress-related sleep challenges. The product works, but makes no medical claims.
Each DreamPad sets you back $179. They're available on Amazon or the company website. Mr. Redfield likely wants a Shark's help with inventory and placement in retail outlets. Will a Shark dream big and invest?
DreamPad Company Information
Video

Posts about DreamPad on Shark Tank Blog
DreamPad Shark Tank Recap
Randall enters the Shark Tank seeking $800,000 for 10% of his business. He explains the product and asks the Sharks to come up and try it. Mark and Lori come up to try it and they're soon joined by Bethany, Kevin and Robert. When they return to their chairs, Richard gives them samples.
Kevin is wondering about the $8 million valuation for a "pillow with a speaker in it." Sales for the past calendar year are $600,000 and he's projecting $1.2 million for the next year (2018). From those sales, he'll earn $150,000. The Sharks are unimpressed and they aren't buying Randall's justification for his valuation.
Mark was unconvinced DreamPad was better than its competition; he's out. Robert is next out saying "the valuation is nuts." Kevin goes out too. Bethanny is next out, also citing the valuation. Lori is interested, but wants Randall to give her a better valuation. When he says he can't go higher than 15%, Lori goes out too.
DreamPad Shark Tank Update
The Shark Tank Blog constantly provides updates and follow-ups about entrepreneurs who have appeared on the Shark Tank TV show. In April, 2019, the company did a Kickstarter for "Dream Pad 2.0" and raised $75,258. As of June, 2021, the company is still in business. Their products can be found at Wal Mart, Bed Bath & Beyond, Amazon and other stores. As of November, 2022, annual revenue is estimated at $6 million.