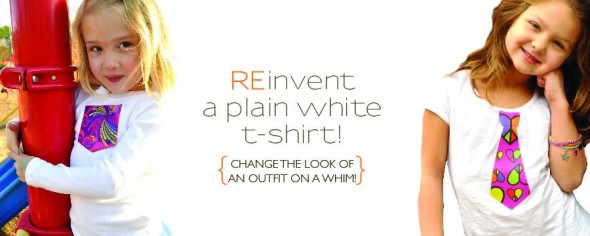 Ellie Brown and Becca Nelson, entrepreneurial sisters from North Carolina, pitch evREwares, their line of fashion novelty fabric stickers in Shark Tank episode 607. The two started the business back in 2011 when they wanted a fun, inexpensive, and easy way to transform their kids' clothing according to their changing tastes.
evREwares are re-usable fabric stickers that come in all kinds of shapes and patterns. The most popular is their tie stickers which transform a standard tee-shirt into (almost) formal wear. The pair has some success getting their product into stores – they're on the shelf at Party City and the Container Store and dozens of mom and pop stores – and they've racked up about half a million dollars in sales since starting the business.
evREwares are available in the aforementioned stores and online at Amazon. In addition to their Sticky Ties, they have fabric stickers for babies, Sticky Bow Ties, Sticky Sashes, Sticky Words and Sticky Drink Labels. They have some college licensing for their products too.
The two women are looking for a Shark to help them grow their online business, more penetration into retail, and cash for growth.
Will a Shark stick with these two sisters and invest?
evREwares Shark Tank Recap
The segment opens with an "at home segment" showing Ellie and Becca playing with their kids. They reveal they've put $185K of their own money into the business. Ellie and Becca enter the Tank seeking $100,000 for 30% of the business. They explain and demonstrate the product then hand out some special Sticky Tie samples. Kevin says his Sticky Tie will be their best seller (it's a picture of him on a $100 bill).
They've done $600K in sales, but they explain they had sell-through issues. The product is selling, but not as quickly as they hoped. They explained they decided to slow down and evaluate the business more closely in 2014. The Sharks have a problem with that. They also don't think it's priced right, but they like the margins. The product and material are patented.
Kevin thinks it's the most expensive sticker in the store, he says it's a "howling dog from hell and it sucks" and goes out. Lori says she invested in something similar a few years ago and it didn't sell – she's out. Barbara says she's out without much explanation. Robert thinks nobody cares – he's out too.
Mark offers $200K for the entire business. After a commercial break, Ellie and Becca look lost. Mark says he'll contract them for designs and they step into the hall to talk. When they go back in, Kevin acts as narrator and recaps the deal. Ellie and Becca tearfully say it's a big moment and they've spent a lot of time building the business, but they take the offer. Mark says he'll take good care of their baby.
RESULT: DEAL with Mark for $200K for 100%
evREwares Shark Tank Update
The Shark Tank Blog learned shortly after airing that Ellie and Becca ultimately declined to take Mark's offer. He TOTALLY supported their decision and has offered to advise them. They took him up on that in some minor aspects. According to Ellie: "His people were rock stars getting us ready for airing in terms of website stuff. I can't say enough about him. But all in all, I am just grateful for the opportunity."
evREwares did benefit from the "Shark Tank Effect" as their website saw insane traffic with over 1000 hits per minute on show night. Unfortunately, that only resulted in about $10,000 in sales. It appears the company shut down in December, 2015.
Posts About evREwares on Shark Tank Blog
evREwares Company Information
Video