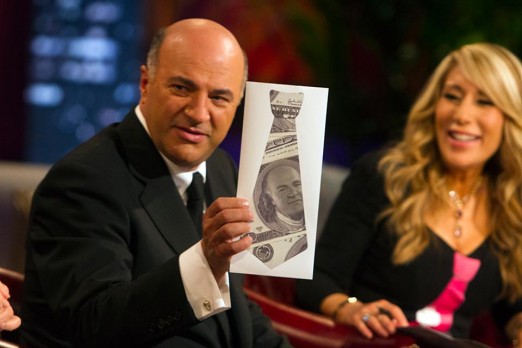 Ellie Brown and Becca Nelson hope the Sharks like their Sticky Tie, one of their best-selling products from their evREwares collection of fabric sticker fashion accessories. They'll pitch their business in a special Tuesday night Shark Tank in episode 607.
While the Sticky Tie may be their top seller, they have a bunch of other fabric stickers: Sticky Months (for babies), Sticky Bow Ties, Sticky Sashes, Sticky Words, and their newest product, Sticky Drink Labels. Each fabric sticker won't tear, doesn't leave a residue, and it can be used again and again. They have a Sticky Tie for just about every occasion and they even have college licensed products.
You can find the Sticky Tie in many retail locations, including Party City and the Container Store, but it's just as easy to order them online. At $3-$5, they're a lot of fun for short money!
My Take on the Sticky Tie
I never wear ties, unless someone is getting married or someone dies. I would wear a Sticky Tie though. They have all kinds of designs, including a bacon Sticky Tie. This is a fun, whimsical product that people will buy on impulse.
Sticky Ties are great for the holidays too. They have ugly Christmas ties and dozens of Halloween ties. If you can think of a theme, the ladies at evREwares have a tie for it. The only thing I don't like about the company is the name: having to type a capital "RE" in the middle of the name is awkward! I like Sticky Ties, I think Becca and Ellie have a winner!
Will Sharks Stick?
Mr. Wonderful is holding a Sticky Tie with his image imposed on Ben Franklin on the hundred-dollar bill. I'm sure he likes it, but will he, or any other Sharks, invest in evREwares?
Sticky Ties are great for licensing, which may entice a Shark. Certainly Mark Cuban could see the value – just like he did with the Gameface Company. If Lori feels she could sell a ton of Sticky Ties on QVC, she could bid too. Kevin might like the custom Sticky Tie they made for him, but he'll only invest if the numbers look good and the valuation is correct. I'm not sure Robert or Barbara bite on this product, but I think the evREwares ladies will have to mull over at least one bid.
Find out more about evREwares in this interview they did with Shark Tank Blog.