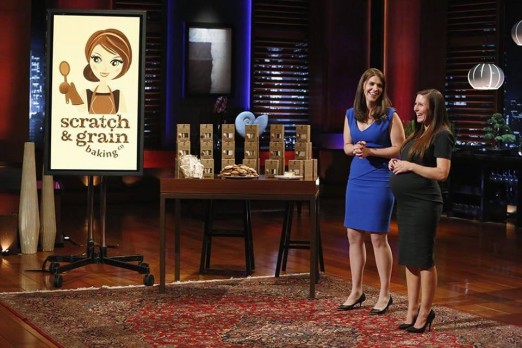 "Momtrepreneurs" Leah Tutin and Taya Geiger barely knew each other when they decided to go into the cookie kits business. Taya, a former securities trader and consultant in the retirement plan industry, and Leah, a top producing Yellow Pages sales rep, had one thing in common: they were moms who liked baking cookies with their kids. One day Leah spent $40 on ingredients to make a few dozen cookies and, while she wanted a fun experience for her and her 6 year-old daughter, she found the task time-consuming, expensive and messy. She went searching for  cookie kits that had all the ingredients pre-portioned and couldn't find anything.
Leah texted Taya and asked her if she wanted to go into the cookie kits business, and that's how the Scratch and Grain Baking Company was born. That was in October of 2012. Fast forward a couple of years and the two cookie baking moms have their cookie kits in hundreds of stores nationwide and they're appearing on Shark Tank in episode 607.
Each cookie kit comes with all the ingredients you need (except for butter and eggs) to make cookies. The ingredients are pre-measured and packaged individually. All Scratch and Grain Baking Company's cookie kits contain all natural and/or organic ingredients. Traditional favorites like chocolate chip and oatmeal raisin are in their repertoire, as are several gluten-free options. At $8-$10 per kit, they're not too expensive and the convenience of not "overbuying" to make cookies is quite convenient.
The two women proved they can get their product out there, but their business is at a tipping point; that's why they're in the Shark Tank. They probably want a Shark's help to get to the next level. Having product in hundreds of stores is a big accomplishment, getting into thousands of stores requires money and connections (and maybe a Shark) to make it happen fast.
My Take on Cookie Kits
My Nana made the best damn chocolate chip cookies I've ever tasted. Nothing has ever come close. She shared her secret recipe with me years ago and every once in a while, I'll whip up a batch. The only problem is, like Leah, when I go buy all the ingredients, I spend a bunch of cash and have a lot of leftover flour and sugar and other stuff. Since I'm not a big baker, the stuff can literally sit around for years and not get used. I get the convenience of cookie kits – I'm just not sure they'd measure up to Nana's cookies!
This Christmas, somebody gave my wife a cookie kit in a jar; the gift giver put the kit together and hand wrote the instructions. My daughters baked them a few days after Christmas and they were very tasty. We all liked the convenience of not having to measure ingredients (and make a big mess in the process).
What Leah and Taya have done is taken that home-made, mason jar cookie kit and packaged it in a way that appeals to consumers. I think there's a solid market for their products and it's probably something I'd pick up on occasion as a treat or to keep my ten-year-old (she's a budding chef who makes donuts with her donut maker on weekends) occupied for an hour or two on a rainy day. I think Scratch and Grains baking Company has a winner on their hands.
Will Sharks Bake up an Offer?
It appears Leah and Taya have proof of concept; the Sharks will like that. If their numbers and their ask are on point, I expect at least one offer. Mark usually isn't into food businesses, neither is Robert, so they probably don't make an offer; that leaves Barbara, Kevin, and Lori.
Barbara has many successful food companies (Daisy Cakes, Pork Barrel BBQ, etc), so she could make an offer if she likes Leah and Taya. Kevin could jump in too, let's just hope he doesn't ask for a "per cookie royalty" in perpetuity! Lori dabbles in food companies too and her retail connections could prove profitable for Scratch and Grain; she's a potential player, too.
I expect at least one offer for Scratch and Grain, but whatever happens in the Tank, I think they'll sell a lot of cookie kits!