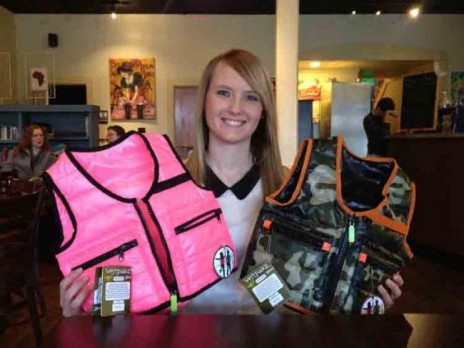 When Michael Wooley's daughter, Christen, invented a back pack vest for a sixth grade science project, little did he know it would lead him to the Shark Tank 15 years later. Wooley appears in episode 607 in a special Tuesday night Shark Tank on January 13; he's pitching his (now 26 years old) daughter's invention – Vestpakz. Christen, who still holds the patent for Vestpkz, isn't appearing on the show – she's busy working on a master's degree and can't devote the time and energy it takes to prepare for a Shark Tank appearance.
When Christen first created the prototype back pack vest, she became a bit of a celebrity. She appeared on Oprah and got a lot of attention. After the Oprah hoopla wound down, she and her dad found it difficult to find interested manufacturers. Vestpakz languished as the Wooleys continued to try to make it a viable product – with limited success.
Michaels' luck changed back in 2013. He was pitching the back pack vest to a WalMart buyer who put him in touch with Eastsport, a large back pack manufacturer. The folks at Eastsport loved the Vestpakz and how the weight distributed evenly when full. A partnership was forged and Vestpakz went on WalMart shelves in December 2013.
Vestpakz appears to have licensed to Eastsport. There is no Vestpakz website or Facebook page. When you got to vestpakz.com, you're redirected to a page on the Eastsport website. With such a high-powered licensing deal in place, it's curious as to why Vestpakz is even in the Tank.
My Take on the Back Pack Vest
With five kids, our family has gone through its fair share of back packs. We've had Pokemon back packs, Sponge Bob back packs, back packs on wheels, but never a back pack vest. The Vestpak looks cool and it probably does distribute weight more evenly. I'm not sure how comfy it would be on a hot day, but it looks like a solid product. If our kids wanted one when it was time for a new backpack, I'd spring for it.
The thing about this product is it looks like Michael already secured a dream deal. Partnering with the one of biggest back pack manufacturers in the world is something entrepreneurs are usually looking for a Shark to help them with. I'm not sure how a Shark could add value here.
Will Sharks Pack it in and Invest?
I think the Sharks will like the back pack vest concept and the Vestpakz story. They'll think it's a solid product and it may be investment worthy. On the surface, it looks like a solid Lori type product: it has mass appeal, it solves a problem, and it's priced right at $20. I'd normally expect Lori to bid on this, but the Sharks are going to have the same question as me: how do I add value to this deal?
Eastsport is a huge company with millions in annual sales and distribution through just about every major retailer out there. The company is a Shark unto itself! While I believe the back pack vest is a winner, I don't think they do a deal with a Shark because they've already won.