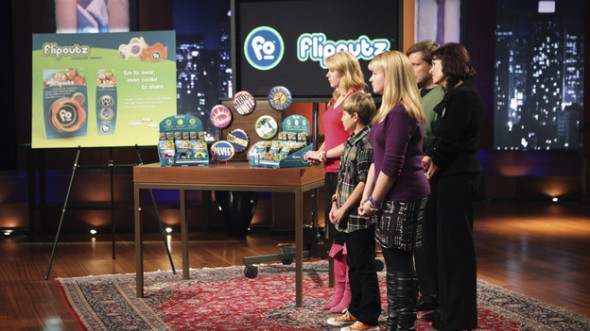 Flipoutz is jewelry and a toy in one colorful package. The Johnson children, Jake, 13, Lachlan, 16, and Erin, 18, came up with the idea during a long car ride home from the beach when their parents, in an attempt to get the kids to stop arguing with each other, asked them to invent a toy together. The result was Flipoutz, a silicon rubber bracelet that holds five coins with funky designs and inspirational messages. Kids are encouraged to trade coins and track them via the Flipoutz website. The Johnson family appears in episode 206 in season 2 and pitches the Sharks on their patent pending coin tracking and trading process.
Flipoutz Shark Tank Recap
The Johnson's came into the Shark Tank seeking $100K for a 20% share of Flipoutz. Mr. and Mrs. Johnson reveal they've invested $250K in the business and there are only $20K in sales for the past 6 months. Barbara and Kevin Harrington both think the marketing costs will be too high; they're out. Mrs. Johnson reveals a company is interested in making 25 million coins and 2-3 million bracelets, plus, they'll pay for 30% of the inventory up front. Daymond offers $100K for 33%. Mr. Wonderful partners with Robert for the same deal, then Daymond drops his share to 25%. After some wrangling, they accept Daymond's offer.
Flipoutz Shark Tank Update
Flipoutz coins are now on five continents and they are on the shelves at Toys R Us and Hallmark Stores. Sales are steady and the Johnsons are working a deal with a company that coordinates pen pals world-wide. They're also pitching a "kids Shark Tank" show where kid entrepreneurs would be Sharks and other kids would pitch them business ideas. In 2013, the kids licensed Flipoutz with Wild Creations, a huge online toy retailer and licensee. Now, the bracelets are available at Wal Mart. The Johnson kids are a true Shark Tank Success story!
The kids sold the business to a company called Wild Craze in 2013 for an undisclosed amount. shut the business down in 2015. The company rebranded Flipoutz to SnapTagz in 2015. As of July, 2023, they no longer sell the products. At this time, Jake is a law student at Tulane, Lachlan is a senior at Saint Louis University and Erin is Ckeeping a low profile.
Company Information