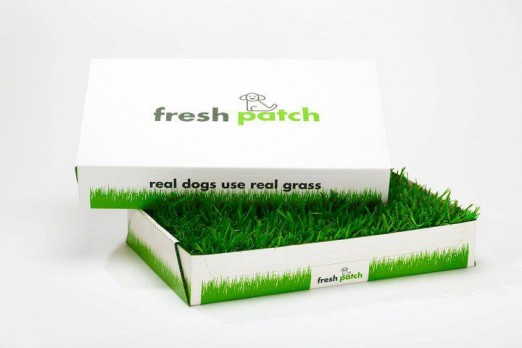 Andrew Feld wants to patch up a deal with a Shark for Fresh Patch, a hydroponically grown, real grass pee-pad for dogs, in Shark Tank episode 616. Feld and his canine partner, Chloe, started the business in 2010 as an alternative to fake grass pee pads and the old stand by: newspaper. Initially, Feld hand delivered Fresh Patch directly to customers. Now, he sends each grass pad via Fed Ex directly to your door. You can even buy it on Amazon!
Fresh Patch operates on a simple fact: whether they're rolling in grass or relieving themselves, dogs like grass. By providing a dog with a real patch of grass, it makes house training a bit easier. It could also come in handy in emergencies, like a blizzard, when it's difficult to take a dog outside to do their business. The root structure in the grass naturally absorbs odors and, unlike synthetic pee-pads, doesn't teach dogs to go on rugs. Dogs will naturally associate the grass scent with going outdoors.
FreshPatch comes in two sizes: "regular," which is 16 inches by 24 inches or XL which is 2 feet by four feet. The grass comes shipped in a cardboard box, but Feld sells a stainless steel tray and wooden protective sleeves as accessories. You can buy one Fresh Patch at a time or subscribe to a regular delivery service for a reduced price. He even offers gift cards for retail pet stores to display.
Feld likely wants to get broader distribution through retail and needs cash to expand. Will Fresh Patch see some green from the Sharks?
Fresh Patch Shark Tank Recap
The segment opens with an "at home" segment at the Feld household. It seems his wife got transferred to Florida and they moved to a condo, much to the chagrin of their dog, Chloe. Andrew got some grass for their balcony and Chloe loved it! That's how he came to invent Fresh Patch.
When Andrew enters the Tank, he's asking for $150K for 10% of his business. After explaining the business, Barbara asks if she can bring fresh patch inside – the answer is yes. Robert wants to know about big dogs and he reveals Fresh Patch XL.
Andrew reveals he's sold over $1 million so far. The Sharks like that! He's built it from the ground up, but shipping is an issue for Andrew. Andrew wants cash to build an east coast shipping facility to help lower shipping costs.
Robert doesn't think his dog will use it, he's out. His product actually has a patent that's being infringed on, Mr. Wonderful likes that – he can sue someone! Kevin offers $150K for 33%. Barbara says she'll do $150K for 20%, IF he commits to going into retail. Kevin then lowers his bid to $150K for 20%. Lori likes it too, she says she's going to wait to see what Mark says.
Mark says he thinks it's both a tech AND retail play. He offers to go in with Barbara at $150K for 20%. Mark says they'll take offer the website, handle the retail, and let Andrew do what he does best. Mark then says he needs to decide RIGHT NOW. Andrew tries to counter, then says he'll take the offer.
RESULT: DEAL with Mark and Barbara at $150K for 20%
Fresh Patch Shark Tank Update
The Shark Tank Blog constantly provides updates and follow-ups about entrepreneurs who have appeared on the Shark Tank TV show. The deal with Mark and Barbara never closed and the product remains an online only play. He introduced new sizes: mini, standard, large and extra-large and also sells plastic training trays and dog treats. In October, 2022, Andrew emailed me and said his annual revenue is $10 million! Fresh Patch is one of the most successful pet products to ever appear on Shark Tank.
Posts About Fresh Patch on Shark Tank Blog
Company Information
Video