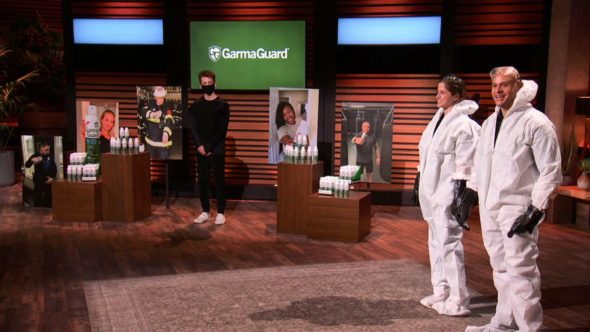 Bianca and Pete Badawy hope the Sharks smell success when they pitch GarmaGuard, their anti bacterial spray for clothing, in Shark Tank's season twelve premier. Pete is an Army veteran and a cop and Bianca is a nurse. After their shift, the house rule was to  strip down out of their work clothes before  entering their home. They didn't like the idea of bringing all that odor causing bacteria that got on their clothes into the house. When they went looking for a spray that could disinfect clothing, there wasn't one. Like any good entrepreneurs, they set out to create their own and Garma Guard was born.
The couple knew they'd use this product they would create throughout the day, so they didn't want any harsh chemicals. After some research, they found an organic, safe solution: citric acid. Citric acid is used in many cleaning products and is colorless and odorless. The couple knew making GarmaGuard organic would make it more acceptable to more people.
With the help of a company called Elysian Labs, the couple managed to come up with  an acceptable formula. GarmaGuard has no bleach or other harsh chemicals and it is safe on uniforms, shoes, hats etc. They target first responders and front-line workers as their primary market, but they'd be happy to sell to regular folks too!
They currently sell on a variety of sites selling police supplies and nursing supplies. The product is also available on Amazon. A can of spray with over 200 applications will set you back $12.99. When you buy in bulk, the cost per can goes down. They likely need a Shark's help with manufacturing and inventory. Will one of the Sharks smell an opportunity?
Company Information
Video

Posts about GarmaGuard on Shark Tank Blog
GarmaGuard Shark Tank Recap
Bianca and Pete enter the Shark Tank wearing Tyvek suits, they're seeking $100,000 for 10% of their business. They throw velcro balls at actor "Joe" to demonstrate the germs sticking to clothes. Then, they introduce and demo the product. The Sharks examine the samples and Mr. Wonderful calls the pitch "really good bad theater."
Blake thinks this could save people money over dry cleaning to eliminate odors. Blake tests it on his shoes and exclaims it works. It is effective on bacteria and viruses. They've been in business a year and a half and have $476,000 in sales. They cost $1.85 to make and they sell foe $12.99. All sales are online. Kevin says the golden ring is if they can claim it kills Covid on your clothes, Pete says they're a year away from that.
Mark says it's a great product, but they need to be a great marketing company and they're just learning; he's out. Kevin says they're terrific, but he's out. Daymond thinks they can scale this on their own; he's out. Lori says she'll be a customer but it's too early; she's out. Blake wants to know what sales in 2020 will be. Pete says they'll sell $500,000 and they'll make $100,000 on that. Blake says they should hold off on an investor due to where they are; he's out too.
GarmaGuard Shark Tank Update
The Shark Tank Blog constantly provides updates and follow-ups about entrepreneurs who have appeared on the Shark Tank TV show. After the show's original air date, the product sold steadily. It has mostly rave reviews from people who use the product to refresh smells from smoke, cooking and dirty gym gear. As of November, 2022, they still don't have a "kills Covid" badge on their product. The company is still in business and has between $500,000 and $800,000 in revenue.