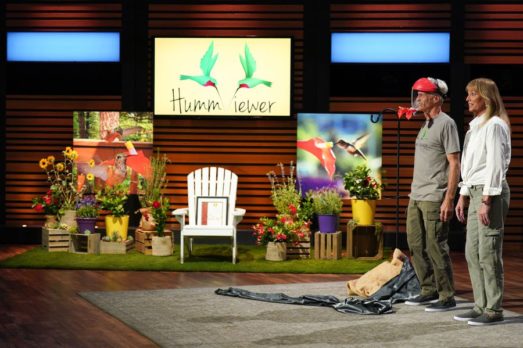 John and Joan Creed introduce the Sharks to HummViewer, their humming bird feeder mask, in Shark Tank episode 1406. John has been fascinated by humming birds since he was a child and loves observing them. He wanted to get a closer look, so he fashioned a face shield with fake flowers and rubber tubes to hold humming bird food (sugar water).
He was hanging out with friends at his summer cabin in the Colorado mountains back in 2017 when his wife made him Tweet a video of the feeder in action to Denver TV station channel 9. They liked it and came out and did a story on John and what was to become HummViewer. Channel 9 called the story one of the  "9 Most Inspiring Stories of 2017." Shortly after the story aired, the couple began offering the product for sale.
The product itself looks like an upscale face shield – the kind you may remember from the Covid-19 pandemic. On each side of the shield – about the width of your mouth – is a red fake flower with a receptacle for holding hummingbird nectar. The red flower mimics flowers hummingbirds are naturally attracted to. A HummViewer will set you back $74.95, but looking hummingbirds directly in the eye is priceless!
Company Information
Video

Posts about HummViewer on Shark Tank Blog
HummViewer Shark Tank Recap
John and Joan enter the Shark Tank seeking $75,000 for 10% of their company. John says one of nature's most amazing creatures is the humming bird and he asks the Sharks if they've ever seen one up close. He says it's hard to get a close up view, but now you can thanks to his invention. He unveils the HummViewer, puts it on and the Sharks chuckle. There are fake hummingbirds on a wire and John waves them in front of the face shield. They roll a video clip of John wearing it with live hummingbirds. The Sharks think it's cool.
Lori asks if they put sugar water in the flowers; you do. John says to remove your current humming bird feeder and stand where the feeder was. They sell for $59.95 and they cost $10 to make. They've sold about 500 units. John tells the story of how the TV station came to see him and says he got an email from a gentleman that said "put me down for a dozen." They got a patent and decided to make a business out of it. They reached out to a hummingbird influencer on Tik Tok and sent him a mask. The video the influencer made got 5.4 million views.
Kevin says he studies Greek mythology. In Greek mythology, the hummingbird brings messages to humans. The hummingbird gave Kevin a message; he's out. Daymond says it's a good hobby business for them; he'll use his HummViewer but he's out. Mark says it's awesome they came up with the idea, but he's out too. Lori also thinks it's a fun hobby business, she' out.
Daniel says when his dad passed away, he saw hummingbirds near his window. He thinks it can sell in novelty stores and on Amazon. The couple took out a home equity loan for $40,000 to get the patent and a minimum order of products. John says he wants a Shark to help him set this business up and market it. They have 1500 units in inventory. Daniel says he isn't sure how to value the business and John says he doesn't either. Daniel offers $75,000 for 35% and John says "THAT'S A DEAL!"
HummViewer Shark Tank Update
The Shark Tank Blog constantly provides updates and follow-ups about entrepreneurs who have appeared on the Shark Tank TV show. Sales predictably got a nice uptick after the show originally aired – they completely sold out. A press release indicates the deal did close. In the release, Daniel Lubetzsky said "I never cease to be amazed by the ingenuity of Americans. Don't be fooled by how goofy this helmet looks — Joan and John have come up with a genius solution for experiencing the magic of hummingbirds up close." John and Joan plan on using Daniel's cash to scale up production and for marketing.
Lubetzky's team completely redesigned the company website and they're advising the Creeds about dealing with retailers and distributors. They also moved into a new warehouse.
The Shark Tank Blog will follow-up on HummViewer & John and Joan Creed as more details become available.