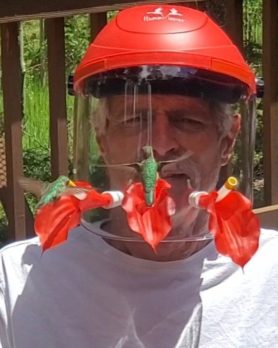 John Creed invented The Humm Viewer because he's fascinated by humming birds and has been since childhood. On his Facebook page, he says "Hummingbirds are simply magnificent creatures. Their abilities are unmatched in nature." They can fly forward, backward and even upside-down. Most hummingbirds beat their wings several dozen times a second and some of the smaller varieties beat their wings over 200 times a second. That's pretty cool!
Most folks have seen a hummingbird feeder. The standard design features a receptacle for sugar water, which humming birds love, and a flower shaped feeding tube. John has flipped the script with his Humm Viewer. It's a plastic face shield, like the ones many people wore during the Covid-19 pandemic, with sugar water receptacles and feeding tubes attached to it.
This lets John, and anybody who buys one, to literally get an in-your-face view of humming birds. At $75, they aren't cheap, but it's a neat way to view these creatures. John got a lot of attention a few years back when he was named one of the "9 Most Inspiring Stories of 2017″ by a local news station in his native Colorado. This caught the eye of Shark Tank producers and now he's looking for a Shark to help him explode his sales.
My Take on The Humm Viewer
I too think hummingbirds are cool. We used to have a feeder that suctioned cupped to our kitchen window. This gave me and my family an up close look at them in action. You can barely see their wings they're moving so fast. I think we took it down because it also attracted bees and wasps which was not cool (I'm allergic).
I could see using this, but I've never seen a hummingbird in our yard. I've seen them since we moved to Florida though, just not as much as I used to in New England. My aunt had a half a dozen feeders in her yard – it was always loaded with hummingbirds. I'd like to try one of these out.
Do Sharks Like Hummingbirds?
I'm not sure about this one. I think Mark will call it a "product not a company" and go out. The other Sharks might be interested though. I'm sure the margins are good, so I expect a royalty offer from Mr. Wonderful. Daymond is a nature lover, so he could offer too, but expect it to be a "Sharky" offer.
That leaves Lori and Daniel. If Lori thinks this is a "hero," she'll make an aggressive offer and have it on QVC the following morning. Daniel will either join her or go out. We'll see how this pitch turns out.