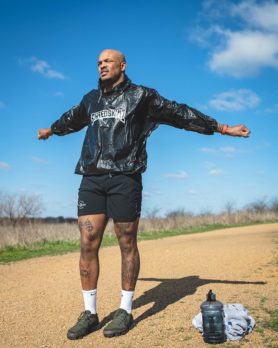 Shred Skinz creator Kalaii Griffin II keeps himself in very good shape. He played football for the University of Texas at El Paso and, when he wasn't drafted into the NFL, he decided to start a business. He always used sauna suits to help him work out harder, but he didn't like what was available in the market, so he made his own.
The suits increase post-exercise weight loss by 47 percent and they increase your post work out metabolic activity. The problem is most sauna suits get pretty grungy. Griffin was using trash bags that were constantly tearing before he invented Shred Skinz. They don't tear and they don't get grungy because they're disposable AND recyclable. He calls them "a sweat machine."
The business has growth goals and Griffin is looking to sponsor a professional fighter to get more exposure. Griffin started the company during the Covid-19 pandemic. He's been marketing with viral videos on Tik Tok that feature people sweating. The goal is to get the product on Amazon and in retail stores. Right now, he only sells direct from his website. The suits cost $14.99 for a pack of five or $49.99 for a pack of 20 suits. He'd like a Shark's help getting where he wants to be.
My Take on Shred Skinz
I used sauna suits in college. I was big into working out. A buddy and I would run the 22 story stairs of our dorm daily before lifting. Sometimes we'd wear a plastic sauna suit. They really were sweat machines! I don't remember where we got them, but they were like a plastic wind breaker. I'd wash it off in the shower, but after a couple of months, we had to toss them because they got a little rank.
Shred Skinz is moderately priced for people who want the benefits of a sauna suit. I'm past my manic workout phase and probably won't be a customer, but I know a few people who already use these at the gym. They get pretty sweaty!
Will Sharks Break a Sweat?
I don't think Griffin gets a deal here. The business is essentially a side hustle for him now. In April, 2022, he took a job as a business development rep with Rapid 7, a network security firm. In October, 2022, he got promoted. That doesn't sound like a guy who's dealing with one of the Sharks.
Lori would never invest in this because she hates being sweaty. The other Sharks will probably think it's either too small, too early or not investable. Griffin's only hope is Daymond who could help with the promotional angle, but I don't think it happens.