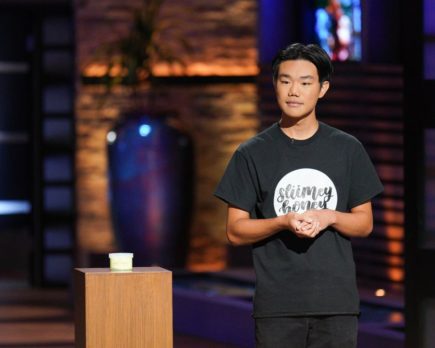 Mark Lin started making slime as a teenager and started Slimey Honey when videos of his slime went viral on Tik Tok. His is no ordinary slime, it's filled with glitter and small plastic bauble toys. He even adds aromatherapy scents to his slime. There are themed slimes for each season, slime that looks like food (DON'T EAT IT), monster slimes and more. He's constantly introducing new slimes with weekly "drops" his fans and customers follow. Most are priced at $12.50 but some of the fancier slimes are a few bucks more.
Slimey Honey is made with a tried and true recipe: squeeze ½ cup (4 ounces) of glue into a bowl, mix 1 teaspoon of Borax into ½ cup of water in the bowl with the glue, stir the mixture in one direction until it starts to thicken and add a few drops of food coloring, if you want. That's it. Next knead the slime and make sure you put it in an air tight container when done playing with it.
Lin's slime looks like art work compared to the stuff I've seen and made before. That's what sets him apart from other slime makers. He gets all his customers from social media now. He has 928,000 + followers on Tik Tok and 70,000 on Instagram – that's a lot! He probably wants a Shark to help him grow beyond his audience.
My Take on Slimey Honey
When my youngest daughter was in middle school, she had a bustling slime business. She used the recipe noted above and colored it. She didn't add baubles or glitter. The kids at school loved it and soon she was selling it for  $8-$10 per container. All told, she made about $500 before demand dried up. Unlike Lin, she didn't market beyond her middle school peers.
As for the Slimey Honey business, it's not something I would buy. It's more fun making it and I still have Borax in the house. Lin is off to college, so I'm not sure how the business will carry on.
Do Sharks Like Slime?
One thing the Sharks will like is Lin's story. He started the business during the Covid-19 pandemic lockdowns. Since he's from California, he was locked down for a long time. He borrowed $200 from his parents and started Tik Tok-ing away. Before long, he'd sold slime to people all over the world.
I'm not sure he'll get a deal though. Slime is not proprietary. Kevin will likely say "how come I can't just start up 'Mr. Wonderful's Slimery'" or some such thing. I just can't see any of the Sharks getting on board here.