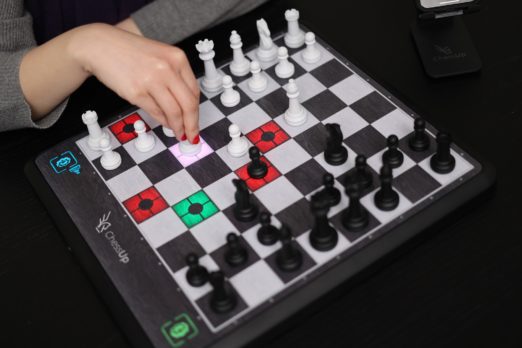 Jeff Wigh first got the idea for Chess Up while playing his daughter. He was torn between "crushing" her and teaching her the game. That's when he thought about creating a smart chess board that would do a variety of things, most importantly teach the game. He got Justin Farrell and Adam Roush, co- workers at Garmin, together and they embarked on a journey to bring his smart chess board to life. They crowdfunded $3,628,362 on IndieGoGo and Kickstarter and got to work. With all that money, they were able to buy components for cash and in larger quantities which resulted in better margins right of the bat.
As for the board itself, it does several things. It's powered by artificial intelligence, so you can play against the board at different levels from beginner to Grand Master. You can also use the board as an interface to play against live players all over the world online. You can also play with a person sitting across the board from you. The best part is it teaches you the game. When you touch a chess piece, the squares surrounding it light up and indicate which is the best next move. If the square lights up green, it's a good move, blue is the next best move and red means it's a bad move. When the game is over – if you want – it will replay all the moves and analyze where you went wrong (if you did). There's also an app that connects to the board which provides analysis and tutorials. You can also play checkers on the board with all the same features.
A ChessUp board with their Touch Sense chess pieces costs $369. The full bundle with chess board, carrying case, chess and checker pieces, 2 carrying bags fore pieces and a phone stand for the app is $489. Chess Up is the one and only product of the company Bryght Labs for now. The founders are committed to STEM education, so their may be more in the future. One thing is sure, when Adam Roush and Jeff Wigh pitch to the Sharks in episode 1409, it will be a fiscal chess match.
My Take on Chess Up
I like chess. Checkers too. I'm much better at checkers though. I never really "got" chess. I've played with all my kids and, even though I crushed them when they were little, they can all beat me now. Learning chess on a ChessUp board might be what I need to actually learn how to play the game better.
At nearly $400 for the chess board, this isn't a cheap toy. I'd consider it an investment. Chess is a game that, theoretically, teach you how to think analytically. While I consider myself a good analytical thinker, I still haven't mastered the game. Maybe I'll have to get one, Christmas is coming after all.
Do Sharks Play Chess?
I'm actually not sure if any of the Sharks play the game. I'd be willing to bet Mr. Wonderful does, but I don't think any of the others do. Whether that has any effect on whether the Sharks make offers or not remains to be seen. One thing is certain, this company will have sales. With almost $4 million in crowd funded cash, I'm betting their sales are good.
At its heart, Bryght Labs is a technology company, so any of the Sharks inclined to invest in tech (Mark or Robert) could make offers. The price point is a bit high for Lori, so I don't think she'll bid. The same goes for Barbara. My Spidey sense is telling me they'll have a bad valuation and leave with no deal though.