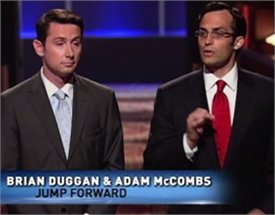 Brian Duggan and Adam McCombs bring a unique opportunity to the Sharks in episode 111, with their website, Jump Forward. With complicated rules and regulations governing the process by which colleges recruit high school athletes into their programs, the pair recognized a need for a streamlined communications system that would allow student athletes and schools to connect while following the compliance standards. Their website allows student athletes to create profiles showcasing their accomplishments.
Will the Sharks salivate over the opportunity, or will they jump past this start-up website?
Jump Forward Shark Tank Recap
Duggan and McCombs enter the Shark Tank requesting $150,000 investment in exchange for a 10% stake in the company. McCombs names several well-known sports champions, and explains that they were all overlooked during the college recruiting process. Duggan goes on to add that the Jump Forward site allows coaches to review profiles of athletes and contact them through the site. He provides an example profile, with a familiar face: Robert Herjavec's.
Kevin O'Leary wants to know how he can make money on the site. Duggan explains that the colleges pay a subscription fee to the site, in order to host the student profiles. Sales have been strong, with $150,000 in sales in 3 months. Duggan projects that the sales can reach $15-20 million, but emphasizes that, with Shark support, the company could reach $35 million. Duggan adds value by adding that the company owns a patent on the mobile application, which contains proprietary software that ensures coaches are following the complex compliance rules.
Barbara Corcoran feels that technology companies are simply too risky. She's out. Kevin Harrington declines to offer a deal on the same grounds. Daymond John tells the pair they're "too smart" for him. Three sharks are out, leaving Kevin O'Leary and Robert Herjavec as Duggan and McComb's only hope of a Shark Deal.
Any Offers?
O'Leary is impressed by the partners' background and their job. He offers them $200,000 for 20% of the company. Duggan says they'll "take it under consideration." Robert Herjavec speaks up. He'll offer $300,000 for 35%.
O'Leary asks the men to leave the stage for a moment while he negotiates with Herjavec. He wants to put a stop a bidding war before it gets started. He proposes that they offer the pair $400,000 for 50% of the company. Herjavec agrees, saying "I like that." They call the pair back in, and make the offer.
The pair turn down the offer, asking for the $200,000 for 16%. They want to hold on to some equity in order to offer equity to future employees. Herjavec offers $500,000 for 50%. The men still hesitate. Herjavec ups the offer to $600,000. McCombs counter offers: They'll give up $300,000 for 25%, or take $750,000 for 50%.
Herjavec and O'Leary stand strong. The offer stays at $600,000 for 50%. Herjavec and O'Leary work to sell their expertise and marketing experience. In the end, the pair calmly accepts the deal. They walk out with a staggering $450,000 more than they went in asking for.
Jump Forward Shark Tank Update
This deal never closed. Since appearing on the Shark Tank, Jump Forward has performed very well indeed. They've since developed an app to go along with their web-based platform. The company now services over 150 college athletic departments and boasts a 99% annual subscription renewal rate. In May, 2016, the business was acquired by Active Network for an undisclosed amount. As of July, 2021, Brian is the founder and CEO at Livly and Adam is the Chief Product Officer at Vantaca, LLC.
Jump Forward Company Information