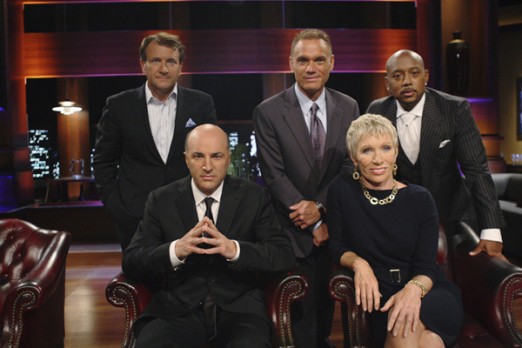 Episode 111 has four new entrepreneurs seeking an investment from the Sharks to grow their businesses. Jeff Wolsky hopes to wiggle an investment for The Bobble Place, a business that creates and sells custom bobble head dolls. Sandy Hyun & Roman Pietrs pitch Mr. Poncho, a protective cover for MP3 players that also helps keep headphone wires from getting tangled up. Dr. Floyd Seskin hopes the Sharks likeThe URO Club, a faux golf club that acts as a resevoir for urine when nature calls on the golf course. Brian Duggan & Adam McCombs pitch Jump Forward, a service that helps market high school athletes to prospective colleges.
Which businesses leave the Tank without an investment and which ones get the Sharks to bite?
Episode 111 Air Dates
First Run – October 20, 2009 – 7PM/8PM C/E
Follow up segments featuring past Shark Tank success stories are a regular feature on Shark Tank. Episode 111 features an update segment on Pork Barrel BBQ, the BBQ Sauce business Barbara invested in back in episode 106.
There were 14 Shark Tank Episodes for Season 1. Casting is currently closed, but it never hurts to get a head start on next season! If you would like to appear on the show, check out our Auditions and Casting information.
Episode 111 – The Shark Investors and Entrepreneurs
The Shark Tank Episode 111 entrepreneurs make their best pitch to the panel of five Shark investors who will use their own money if they choose to invest. The Shark Investors negotiate on the spot without any previous information, which differs from typical negotiations between venture capital investors and entrepreneurial start-ups.
Companies pitching the Shark Investors must go through a rigorous due diligence process before an on-air deal is completed. Shark Tank Blog follow ups help you keep track of the companies that end up successful and the ones that don't complete their deal.
Thank you for reading SharkTankBlog, the number one site for Entrepreneurs, Investors and Fans. Our content updates multiple times day, giving you the latest information on Episode 111, Season 1, and all other seasons and episodes.