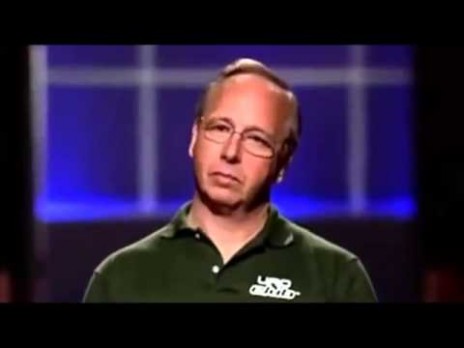 Dr. Floyd Seskin brings his Uro Club to the Shark Tank in episode 111. As a practicing urologist, Dr. Seskin had spoken with many patients in his Florida practice who struggled with the long walks across the golf course. Since 18 hole courses lack restroom facilities on the fairway, golfers are often faced with uncomfortably long waits between bathroom breaks.
Will the Sharks want a bite of Dr. Seskin's golf-club urinal, or will they find other waters to swim in?
URO Club Shark Tank Recap
Dr. Seskin is asking for a "mere" $25,000 investment in exchange for a 51% stake in his product. He is seeking the Sharks' marketing and distribution expertise and channels, and is realistic about his need for a strong partner to get his product off the ground.
He presents his "self-contained receptacle," which is essentially a urinal camouflaged as a 7 iron. It includes a triple-sealed, screw-on lid to prevent any leakage. The Sharks' initial reaction is laughter. Robert Herjavec wants to know how Barbara Corcoran would be able to use the Uro Club on the course. Seskin responds that he'd have to design "a whole pop-up tent" to modify the product for female use. He briefly demonstrates how the included "privacy shield" towel clips to the club and the waistband, providing a discreet cover for the golfer. The Sharks are skeptical.
Kevin Harrington calls the product a "gag gift." He's not sure that it has real market potential. Seskin explains that, by producing an infomercial that played on local channels, he was able to sell $70,000 worth of his product. With a cost of $8.43 to produce, and a retail price of $24.95 plus shipping, it seems that the Uro Club is making a reasonable profit. The Sharks are surprised and impressed by the numbers.
Who's In?
Daymond John asks how much Seskin has invested. He responds that he has $300,000 invested into the product, in production, trademark, and other costs. His numbers line up, but John zeros in on Seskin's purpose, pointing out that he's asking for a relatively small investment. "What you're looking for is a partner. I call myself the Brand Whisperer, but I wouldn't know how to market that. I'm out."
Barbara Corcoran says she "obviously can't relate to this particular product." She's also out. Robert Herjavec says he "can't imagine utilizing that product under any situation," and he can't invest in a product he wouldn't personally use. He's out. Kevin O'Leary has similar concerns, and doesn't believe the product fits his portfolio. He also declines a deal. Only one Shark remains.
Kevin Harrington says he believes the product has some potential as a novelty and gifts. He offers Seskin $25,000 for 70% of the company. Seskin doesn't hesitate to take the deal.
URO Club Shark Tank Update
The deal with Kevin never closed. Although the Uro Club is a rather bizarre and perhaps a niche product, sales have been reasonably strong. The website is up and running and the golf-club shaped urinals are available for sale. As of July, 2021, the company is still in business.
URO Club Company Information