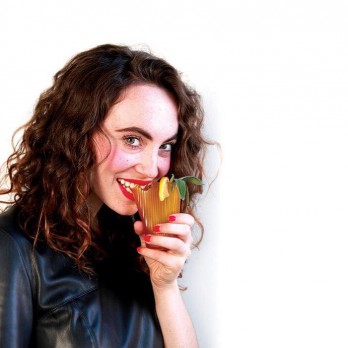 Chelsea Briganti and Leigh Ann Tucker hope the Sharks take a bite out of Loliware, their line of edible cups, in Shark Tank episode 702. The pair met at Parsons School of Design in New York and after graduating in 2010, they entered a Jell-O contest. After much experimentation, they created Loliware – cups you can eat when you're done drinking out of them.
Gelatin is not only edible, it's biodegradable, so the pair coined their product as a "biodegr(edible)" alternative to plastic cups. They hope Loliware can help reduce the billions of tons of plastic that gets dumped into landfills every year. The invention, originally called "Jelloware," created a lot of buzz. They were able to raise $10,000 on Kickstarter in 2011 and they re-named the product Loliware.
They got another $60,000 in angel investments from the Hot Bread Kitchen incubator in Harlem and filled an order from AOL for 600 cups for the Adweek Brand Genius Awards in 2012. When Absolut Vodka asked them about ordering 60,000 cups for a concert, the women knew they were really on to something. The cups look like regular, translucent plastic cups, come in a variety of shapes, sizes & colors, and taste like a fruit roll-up. Loliware cups can hold a drink for 24 hours and have a shelf-life of three months. They also hope to eventually create a line of table ware to complement the cups.
Chelsea and Leigh Ann continued to receive many accolades and a lot of good advice. They won the Natural Products Expo "pitch slam" contest in March, 2015. While it was a prestigious event, they won "goods and services," but no cash. In an interview following the win, they commented they were still looking for investors. The pair also appeared with Marcus Lemonis on CNBC's The Biz Fix. Lemonis urged them to focus on the biodegradable aspect of the product and gradually introduce flavors. Lemonis thinks if they get it right, they'll have a HUGE business, but there's still work to do before getting it ready for the market.
Loliware is likely looking for a Shark to help get them to the next level, can they get one to bite?
Loliware Shark Tank Recap
Chelsea and Leigh Ann enter the Shark Tank and ask for $150K for 15% of their business. They proceed to eat a cup in front of the Sharks and they pitch the edible-ness of their product, stating they want to create a plastic-free revolution.
The Sharks try cups with special drinks and they like them. Lori thinks it's delicious, saying "it tastes like an adult fruit roll-up." They explain how they make Loliware with vegetable gelatin and tell the Sharks they have a $1.3 million letter of intent from a party supplies company.
As they continue to tell their story, the women reveal their cost is 97 cents for a cup they sell for $1.50, but they think they can get the costs down with volume. To date, they've invested $20K of their own money and another $100K from friends and family. As they speak, the Sharks begin to circle.
Robert wants to offer $600K for 25% if another Shark joins him in the deal, Mark immediately says "DONE." Kevin wants in, as does Barbara. Lori clears things up by going out, then Barbara says she wants to go in with Mark, who says he'll work with either Shark.
Chelsea and Leigh Ann weigh their options. They have $600K for 25% from Mark and Robert and an identical offer from Mark and Barbara. They accept Mark and Barbara's deal – Robert's OUT!
RESULT: DEAL with Mark and Barbara for $600k for 25%
Loliware Shark Tank Update
The Shark Tank Blog constantly provides updates and follow-ups about entrepreneurs who have appeared on the Shark Tank TV show. The deal with Mark and Barbara closed and the products are listed in their respective investment portfolios. The company social media hasn't posted since March, 2018. As of August 2021, they did not have a consumer product ready for market and the company is still listed on Mark's site. The website says "new site coming soon."
Posts About Loliware on Shark Tank Blog
Loliware Company Information
Video