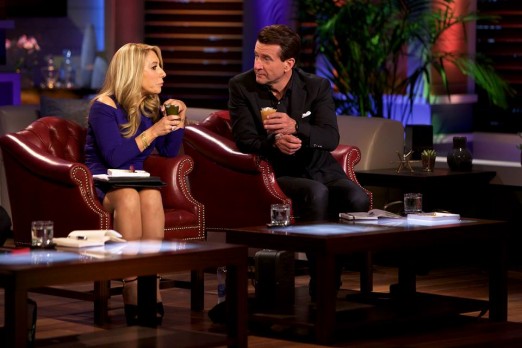 Chelsea Briganti and Leigh Ann Tucker didn't think they'd be in the edible cups business when they entered a Jello contest back in 2010. When they won and people started asking where they could get them, they knew they were on to something. The two women pitch their edible cups to the Sharks in episode 702.
Making snacks out of Jello is nothing new, but making a cup is. Loliware edible cups supposedly taste a bit like a fruit roll-up, but the taste isn't what will make them go big. They bill their product as "biodegr(edible)." Yes, you can eat them, but they are also completely, 100% biodegradable. Think of all the times you've had a plastic cup at home or at a venue somewhere; all those cups go into a landfill somewhere and they'll stay plastic cups for eternity. Wouldn't it be better if they just melted away?
Chelsea and Leigh Ann think so. So do a lot of other people. The pair keeps entering and winning pitch contests and none other than The Profit, Marcus Lemonis, said the same thing to them on national TV. People want products and packaging that won't harm the environment. Loliware's edible cups fit that bill and they have the added benefit/novelty of tasting good while doing it.
My Take on Edible Cups
I would definitely buy these, both for novelty and environmentally friendly reasons. Much like Susty Party's compostable paper plates, cups, and tableware, Loliware's edible cups provide an environmentally sound alternative to throw-away cups. I'd also get a kick out of doing a shot then chomping on the shot glass! Just like Marcus Lemonis, I think the biodegradable capabilities of Loliware trump the edibility. This could be a very big product, I am IN.
Will Sharks Bite on Edible Cups?
Regardless of the taste, I think Loliware is going to create some interest in the Tank. If the Sharks focus on the environmental first, they should see tremendous opportunity. I could see all five Sharks making offers, possibly in teams of two or three.
The Shark I think will partner with Loliware is Mr. Wonderful. He bid on Zipz in season six just so he could get his hands on their patented packaging. I don't think he'll be putting wine into edible cups or edible bottles, but he'll see the benefit of licensing Loliware to a variety of beverage manufacturers and big venues that spend big bucks on plastic cups. He'll also like the fact the company is run by two women. I predict a Shark fight with Mr. Wonderful partnering with Loliware.