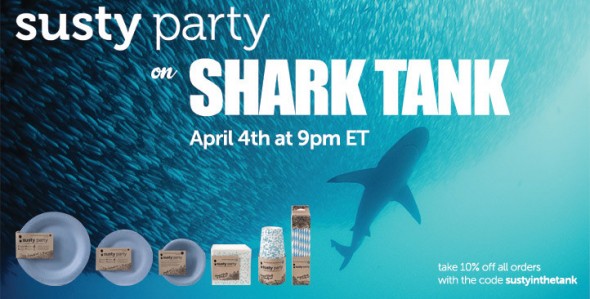 Jessica Holsy and Emily Doubilet pitch their sustainable party supplies company, Susty Party, in Shark Tank episode 526 on April 4. The two women started Susty Party in 2009 when they realized how much waste disposable party goods created. They saw an opportunity to create and market party products (paper plates, cups, napkins etc) that are made from recycled or sustainable materials and completely compostable – thus making their disposal eco-friendly too.
Susty Party products are widely available on Amazon, at Whole Foods Markets, Wegmans, and many other stores nationwide. They also have a wholesale operation for "qualified businesses" like food services, event planners and caterers. One of their more popular products is the party kits which have everything you need for 24 people in one package, so there is no leftover product waste either.
The two women hope the Sharks want to be sustained; they're likely looking for help with a cash infusion and to expand retail distribution.
Susty Party Shark Tank Recap
Emily and Jessica enter the Shark Tank with silly crowns on their heads. After giving their pitch, they ask the Sharks to dance with them. Kevin, Lori and Barbara join the dance. The women are seeking $250,000 for 10% of their business. Emily. explains their products are contract manufactured
Sales for the year (2013) were projected at $1.5 million. unfortunately, they're currently running $80,000 in the red and only have $30,000 in the bank. They are sitting on $125,000 in inventory. Kevin says they have nothing proprietary.
Barbara agrees with Kevin and she's the first Shark out. Robert sees too much risk; he's out. Lori recently invested in a business that was going to make disposable plates; she's out. Kevin offers $250,000 as a loan for 30% equity. As they look to Mark, he cites a number of concerns before going out. "All roads lead to Mr. Wonderful," says Kevin. Since he won't budge from his offer, the women decline the deal.
Susty Party Shark Tank Update
The Shark Tank Blog constantly provides updates and follow-ups about entrepreneurs who have appeared on the Shark Tank TV show. As it turns out, the pair got a $500,000 investment for 8% of the company just 2 months after taping in September, 2013 (this was before they aired in April, 2014). They got their products into Whole Foods and 276 Target stores for a time.
In 2016, Emily and Erica left the company. The two people currently running the business are Julie Bell and Benton Keith. Both are venture capitalists. It's unclear if this was an acquisition or if Emily and Erica just moved on, maintained their equity and just gave day to day management to someone else. Either way, you can still buy the products on Amazon. Emily is now a managing director at Mermaid Ventures and Erica is a managing director at GCM Grosvenor. As of August, 2022, the company is still in business with $5 million in annual revenue.
Posts About Susty Party on Shark Tank Blog
Susty Party pre-show Interview with Emily Doubilet
Susty Party Holiday Collection
Susty Party Information
Video: