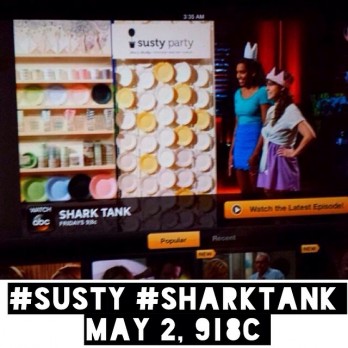 Jessica Holsy and Emily Doubilet pitch their sustainable party supplies company, Susty Party, in Shark Tank episode 526 on May 2. Based in Brooklyn, NY, Susty Party provides folks with party supplies – paper plates, cups, napkins, etc. – that are made from recycled or sustainably harvested materials. Even the cutlery is sustainable – it's made from bamboo. Everything they sell is made in North America, too!
Their party supplies are compostable, so you can chuck all the paper goods into the compost heap or into the curbside composting bins showing up in major cities all over the USA. By composting instead of just throwing things away, we can reduce the strain on landfills; it's a totally green concept and company.
Curbside composting gained a lot of momentum in the past three years. Over 90 cities have it, with more sure to follow. San Francisco has a curbside composting program, they have for 15 years. It's estimated they collect 600 TONS PER DAY for composting. Roughly one-third of the things we throw in the trash is compostable, so there's a lot of opportunity to save landfill space by expanding this method of waste collection. The Susty Party gals saw this trend developing, took a fairly ubiquitous product line – party supplies – and capitalized on the growing awareness. As composting grows, so will Susty Party and other businesses that advertise their "compost friendliness."
Susty Party supplies are available at Whole Foods, Wegman's and on Amazon.
My take on Susty Party Supplies
In our home, we compost all our vegetable garbage and paper goods in a compost heap in the garden. It feeds our veggie garden and keeps our trash (which we pay to have removed) at far lower levels. Emily sent me a box of Susty Party supplies, but I have yet to use them (we do have some birthdays coming up though). At a glance, they look like any other disposable party supplies (with the exception of the bamboo knives, forks, and spoons). If this were a readily available choice – which it's becoming – I'd buy these plates and napkins over less eco-friendly stuff. The price is about the same, so why not?
We have a LOT of birthday parties in our family, so we do the paper plate thing during "birthday season." If you've ever loaded up a trash bag with dirty paper plates and cups, you know how wasteful it is. Susty Party wants to turn your waste into compost. I think it's a solid business model with huge upside; it's also fun to say (go on – say it): "SUSTY!" I am IN!
Are Sharks Sustainable?
The Sharks will need a bit of education about curbside composting. When they realize it's expanding exponentially, they'll see the profit potential. Susty's sales are already very strong and growing, so the Susty gals will be taken seriously. They'll need to have a valuation the Sharks like; if they do they'll get multiple offers. Any one of the Sharks could go for this, the business is already mature enough to show Jessica and Emily aren't just playing at it. I predict a deal for Susty Party.