Kelly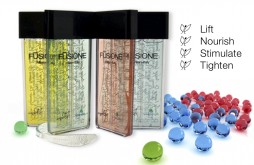 and Aaron Bruce pitch Angel Lift, a "home face lift" kit, in Shark tank episode 526 on May 2. Angel Lift uses reusable Dermastrips that fit inside your mouth, like teeth whitening strips. Combined with their low pH Fusione nutrients, the Angel Lift system smooths out laugh lines, smoker lines, and other wrinkles around the mouth.
The Dermastrip technology Angel Lift uses came from teeth whitening strips. When inserted in the mouth, they naturally smooth out the skin, letting the nutrients do the job of erasing all those wrinkles. It's a safer, more economical way to make you appear younger and replaces the "need" for collagen injections or plastic surgery. Angel Lift products are available on Amazon and are featured on several home shopping channels.
My Take on Angel Lift
I'm not a customer for this product, but based on all the lotions and potions my wife has in her war chest medicine cabinet, I'm thinking she might be. She's been applying wrinkle creams for about a year as she approaches her 40th birthday. I tell her she looks great (she does!), but "vanity thy name is woman."
I'm thinking women will want this product. AngelLift already claims to be "the #1 selling facial lift on live shopping channels," so they're moving product. I just bet there aren't a lot of men buying the stuff. I think it has appeal, but it's not for me and my scruffy face.
Will Sharks be Angels and Invest?
I can hear Mr. Wonderful waxing apocalyptic about the cosmetics industry now. I don't think he bids. The same goes for Mark and Robert. Daymond may have an interest, but Lori is the logical target, With a strong home shopping following already, Lori could easily apply the Shark Tank effect and take Angel Lift to stratospheric sales in a short time.
What's going to be important is the valuation. With a mature business and big sales, the Bruces might ask for too much and scare the Sharks away. If their valuation is on point, I expect at least one offer.