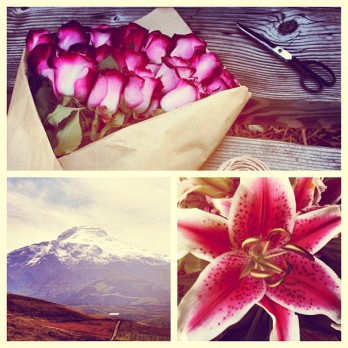 John Tabis isn't your typical florist and his business, The Bouqs Company, isn't your typical online flower supplier. When you order flowers from Bouqs (short for "bouquets"), you aren't getting a product that sat in a cooler for a week, you're getting fresh-cut flowers – cut the day you order them – from an Ecuadorian volcano! Tabin hopes to get an investment from the Sharks in episode 526 to help his business blossom and grow.
Tabis started Bouqs because he didn't like the way online florists operated. The products aren't fresh and there are a lot of "bait and switch" sites that lure you in with a low price, then get you to spend much more for a "real" bouquet. Bouqs has a flat fee pricing structure and eliminates a lot of wasted energy by cutting and shipping their flowers to order. It takes a few days to get the Ecuadorian flowers, but they've started a "California Collection" of bouquets for overnight shipping.
Standard Bouqs run $40 and that includes delivery; California Collection flowers run $50. They're able to keep prices down by only cutting the flowers they sell which cuts down on flowers getting thrown in the trash from dying; the savings go to the consumer. Bouqs literally has a direct supply chain, resulting in fresh flowers that last longer than other online florists, at a fair price.
My Take on Bouqs
I buy my wife flowers on Valentine's Day, Mother's Day, her birthday, and our anniversary. My mom gets flowers on Mother's Day, too. Add to those events the other times I buy flowers, and I'm probably averaging a bunch of flowers a month. I'll use Bouqs next time, just to try them out. If everybody is happy, I'll use them again. I really have no preference where I order flowers, as long as the price is decent and the flowers are fresh. Add the sustainability story to the mix, and I am IN.
Will Sharks see the Bloom on the Roses?
Even though flowers are an old business, Mr. Tabis is putting a new spin on how they're sold. This is more of a supply chain and logistics business than anything else. If Bouqs can demonstrate they have their system down pat and they're profitable, the Sharks could start a feeding frenzy. Robert, Mark, and Mr. Wonderful will get it and they each could bring value to a business that needs solid web infrastructure and supply chain logistics. Mr. Wonderful will likely offer a royalty deal on each bouquet sold (it's getting tired – I know – Robert called him out on air last week about his "same old offer" he keeps recycling). Robert could make an offer too, but this seems right up Cuban's alley. Daymond and Lori might bid, but I think Mark lies in the weeds and gives them exactly what they're asking for.