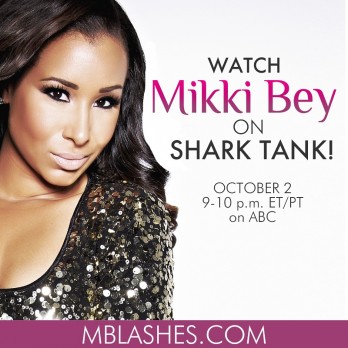 Mikki Bey is the Queen of eyelash extensions in Hollywood. She managed to parlay her job as a Hollywood make-up artist to the stars into a lucrative, six-figure per year business making eyelashes look thick, lush, and beautiful. She'll be putting some eyelash extensions on a Shark in episode 702 (it looks like Mark Cuban gets a treatment), but will that translate into an investment in her eponymously-named business, Mikki Bey Eyelash Extensions.
Mikki actually has two businesses. The primary business is putting eyelash extensions on people willing to plunk down $350 for a 90 minute treatment. Mikki essentially does for eyelashes what Cashmere Hair does for hair, except on a much smaller scale. She weaves either mink or synthetic "eyelashes" onto a person's existing lashes, making them much more "luxurious." Her second business is selling a business opportunity in the form of training sessions. For $600, you can attend one of her trainings where you get an eyelash extensions kit and personal tutelage from Mikki herself. She has an 11 city "World Eyelash Tour" scheduled for 2015-2016.
Whether she wants a Shark to help her expand her retail business, or to assist with training remains to be seen. One thing's for sure, it will be funny to see Mark Cuban with false eyelashes.
My Take on Eyelash Extensions
I would never get eyelash extensions, nor would I pay $600 to learn how to apply them. After all, I am a fifty-year-old male and this service is way off my radar; I'd rather spend $350 on some new fishing gear. I also was blessed with thick eyelashes; all my kids were too. Our family has eyelashes as thick as paint brushes!
"Vanity, thy name is woman," as the saying goes and Mikki's proved it with her success. It doesn't surprise me that women would plunk down that kind of cash for thick eyelashes. The beauty industry is a $60 BILLION dollar industry – someone is spending that dough, why not spend some of it on eyelash extensions? Mikki is in the right town for such a business, too. Hollywood is the home of the "beautiful people" and most of them have to spend to stay beautiful. Her success, while foreign to me, is no surprise. I am sure she'll continue to be very successful.
I am less optimistic about the World Eyelash Tour. While building a successful eyelash extension business in LA is one thing, it's another to do it in Detroit (where Mikki Bey hails from), Scottsdale, or Seattle. Mikki isn't setting up shop in these cities or even franchising. She's jetting into town, giving a class, handing out kits, then moving on to the next city. It's a straight-up Biz-Op deal and I am not sure there's an audience.
Then again, what do I know. I'm a fifty-year-old guy!
Do Sharks Extend an Investment?
This iis going to be one of those Shark Tank pitches where everyone is laughing (especially at Mark with his new "glam" look), everyone likes Mikki, and nobody invests. Mikki will undoubtedly gain a lot of exposure and she'll probably sell a lot of seats at her training sessions. Fifty-year-old men are not her demographic, so there won't be ANY of them in the seats during the World Eyelash Tour, but many women with an entrepreneurial spirit will probably get on the Mikki Bey Tour bus and start extending eyelashes the Bey way.