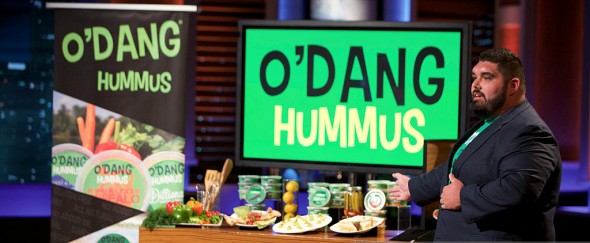 Jesse Wolfe likes his hummus. He never tried the stuff until he needed something soft to eat after getting his wisdom teeth out. When he tried hummus for the first time, he liked it, but he wanted more flavor, so he started experimenting with flavors like Buffalo, Sweet and Spicy, and Dill Pickle Hummus. His friends went nuts for the stuff and Jesse soon became the hummus King of central Florida farmers markets, selling his O'Dang brand to just about everyone who tried it. Wolfe, a University of Central Florida student, pitches the Sharks on his product in episode 702.
Besides hummus, Jesse's developed hummus sauces. They're like salad dressings, but without any dairy, oil, or preservatives. The sauces come in four flavors: Ranch, Honey Mustard, Caesar, and Buffalo Spicy. With this move, O'Dang created a unique, new food category which landed him in some central Florida Publix markets. Soon, according to his Facebook page, O'Dang will be in EVERY Publix. Jesse's come a long way from a hummus neophyte to a shelf presence in a major supermarket chain!
My Take on O'Dang Hummus
I eat hummus all the time. We have it with veggies and crackers as an hors d'oeuvre on a near-daily basis. I'm always trying new flavors when I see them at the store, too. The hummus market has some "big players," but there are a lot of small brands too; Publix even makes its own house brand. I want to try some Dill Pickle flavor in the worst way – I wonder if it would be good on a hot dog?
I checked my local Publix yesterday for O'Dang, but it wasn't there. Next time I go in, I'm going to check the salad dressing aisle to see if the sauces are there. I want some O'Dang!!! I'm IN!
Will Sharks Like O'Dang?
The Sharks are going to LOVE Jesse. He's totally invested in his business, loves his product and he knows how to sell it. Of course, if it's as good as he says, one taste will do all the selling. He'll also be on top of his numbers; as a business student at University of Central Florida, he should be. He strikes me as a hard charger and the Sharks like that.
They're sure to like the product, too. He wouldn't have come this far if it wasn't good. I think a Shark invests and here's why: Jesse's had a lot of success with O'Dang and he's done it largely on his own. He's probably looking for money to ramp up production, which is OK. He's announced a deal with Publix, but it doesn't appear to be widely available – yet. He also developed a new product – the sauces – in the last 6 months or so. The fact that the Publix announcement came shortly before his Shark Tank episode airs is strikingly similar to Back 9 Dips, another Florida foodtrepreneur that did a deal.
Back 9 went with Lori, so maybe she brings her previous experience to the table and bids on O'Dang. Barbara is another Shark who's had success with food products, so maybe she's the one. Whatever Shark bids, I am predicting one of them will partner with O'Dang Hummus.