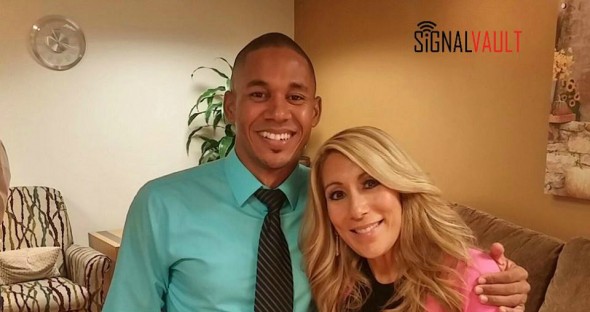 Guest Post on how SignalVault can beat competitor ID Stronghold by Dan Casey
We now live in an era of electronic pick-pocketing where thieves with scanners can steal our credit card information without ever touching our wallet. Chris Gilpin of SignalVault is on a mission to protect customers against these types of "crowd hackings" happening at popular locations all over the country. His product uses e-field technology to detect and disrupt signals trying to steal information. Competitor ID Stronghold dominates the industry with 80% market share. How is underdog SignalVault expected to compete with this powerhouse brand?
Make a Better Product
ID Stronghold's product line focuses on a wide array of wallets and sleeves. In my opinion, their selection of wallets looks dated. There's a multi-billion dollar industry catering to the fashion whims of the wallet world. Why should I have to buy a wallet that I don't like to protect my data with ID Stronghold?
Welcome industry newcomer SignalVault specializing in data security NOT fashion accessories. Using the wallet of my choice, I simply slip the credit card sized SignalVault into my wallet. One card protector keeps all the credit cards in my wallet secure. This provides consumers a better solution to security concerns without dictating fashion.
Get Brand Exposure
Clearly, the season premiere of Shark Tank exposed millions of viewers to SignalVault and allowed Chris Gilpin to fully explain product benefits. This takes SignalVault from an unknown brand sitting on the shelf to a recognized leader in the industry. The "Shark Effect," however, has a limited timeframe. SignalVault needs an aggressive plan to take over market share from ID Stronghold.
Broaden Your Target
This is when Gilpin maximized his Shark Tank moment. Knowing there are two distinct target markets for his product, he came into the tank with a clear goal. With careful negotiation, he happily offered 25% equity to score his dream team. Leveraging Lori Greiner's QVC connection to target consumers and Robert Herjavec's security expertise focused on enterprise, Gilpin will be able to simultaneously target both markets. Mark Cuban even commented how challenging it can be for companies that have a "consumer product and think money will be made in enterprise." With experts in consumer and enterprise sectors on his team, Gilpin has a huge advantage in stealing market share from ID Stronghold.
Can SignalVault beat ID Stronghold?
Goliath brands can be daunting competition. With a superior product, a nimble team of experts and Shark Tank viewership, Gilpin secured a winning combination that should pave a nice future for SignalVault.
Dan Casey, founder and CEO of purchaseorderfinancing.com, believes every business has a story to tell. He's been listening and helping small businesses grow exponentially since 2002 using a creative combination of finance tools. He's been featured in publications including Entrepreneur Magazine, Entrepreneur Online, Small Business Trends Online, The Washington Post, Crain's Chicago Business & American Express Open Forum. 

Visit www.purchaseorderfinancing.com and be sure to mention Shark Tank Blog to get a free subscription to Fast Company or Entrepreneur magazine.*

 

*Must qualify for financing to receive special offer exclusively for SharkTankBlog.com readers.