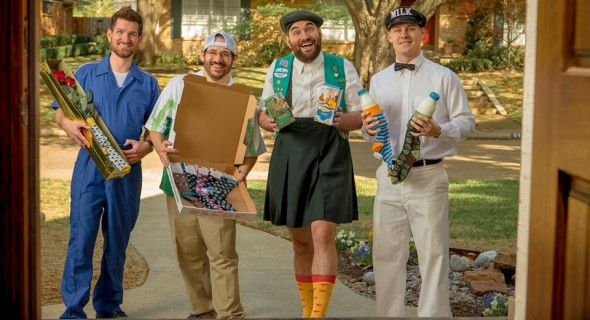 Shark Tank has seen entrepreneurs pitching toy subscriptions, food subscriptions, even coffee subscriptions; now Foot Cardigan wants a Shark to try on their sock subscription service. Bryan Deluca, the gentleman pictured in the Girl Scout uniform, started Foot Cardigan in 2012 along with Tom Browning, Matt McClard, and Kelly Largent. The Dallas area business caught on with their zany marketing and colorful, quirky socks.
For nine bucks a month, you sign on for a sock subscription. Each month, a new pair of socks (of Foot Cardigan's choosing) comes in the mail. It's a pretty simple, straight forward business and the four dads from Dallas boast 4,000 subscribers. If you do the math, that's $432K per year in sales. They claim they'll do $1.5 million in 2015. That's a lot of socks!
My Take on a Sock Subscription Service
I recently moved to a Florida beach town. Socks are no longer in my wardrobe the way they were when I lived in Boston. Now, I either go barefoot, wear my Crocs or my Xeroshoes; a sock subscription service isn't something I'm likely to purchase. My daughters, however, LOVE funky socks and I am considering getting them a gift certificate for Foot Cardigan as a Christmas gift. They all still live in the snow belt, so they NEED socks.
Subscription services are catching on. If you are the type of person who wants to try new things regularly, they make a lot of sense. Any subscription makes a great gift, too. It reminds the recipient of you every month. Believe it or not, there are other sock subscription businesses out there, but Foot Cardigan has carved out a nice slice of the market. Deal or not, I think Foot Cardigan is a winner. I am IN!
Will Foot Cardigan Sock it to the Sharks?
The Foot Cardigan pitch should be fun and entertaining. Mr. DeLuca apparently drops his pants during the pitch. Outrageous pitches and characters are good TV, and it looks like the Foot Cardigan pitch will be just that. Once the laughter stops, the Sharks will want to know numbers.
Foot Cardigan has good numbers. They went from a $6,000 investment in 2012 to $1.5 million in sales in 2015; any Shark would love that growth. Socks are one of those things you always need, too: they wear out or they get sent to "sock heaven." Having a sock subscription service sending new socks every month assures you won't get left out in the cold.
While other subscription services haven't fared well in the Tank, Mr. Wonderful did invest in Plated, a dinner delivery service. The logistics of running Plated are far more complicated than Foot Cardigan's, so the simplicity may appeal to him and he's familiar with the business model.
I can't see Lori being too interested – she's more inclined to go with products she can sell on QVC, but she could tout the socks and the subscription successfully. Mark will view this as an internet sales play and he'll be impressed with Foot Cardigan's execution, so he could be a bidder. Daymond already sells socks, so he probably won't bite on this deal. "Guest Shark" Troy Carter is a wild card. In the past, guest sharks have done at least one deal, either on their own or in partnership with a "regular." I can see Troy partnering with Mark or Kevin on this business.
While I'm not sure which Shark partners with Foot Cardigan, I think they get a deal. They just opened a new, 6,000 square foot warehouse in Dallas and their promotional efforts leading up to the show look like other businesses that have done deals. Their website has that "we got a deal" look to it. Watch for socks with Sharks on them in next month's mail!