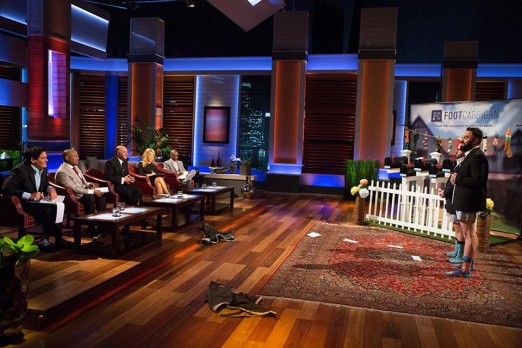 Bryan DeLuca and Matt McClard drops their pants to show the Sharks their small batch socks in Shark Tank episode 703. DeLuca and McClard, along with fellow Dallas dads Tom Browning and Kelly Largent, started the subscription based sock company in 2012 with $6000.
The basic premise is Foot Cardigan sells socks on a subscription model; for $9 a month, a new pair of socks arrives in the mail each month. A kid's subscription includes two pairs. People can also buy single pairs of socks without subscribing. The socks, which feature wild designs and a bit of whimsy, are made in small batches (presumably to approximate the number of subscribers) and customers receive whatever Foot Cardigan decides to ship. The company gained national attention in 2012 when they designed red and blue Obama/Romney socks during the presidential election.
Since opening the business, the company has grown. Foot Cardigan employs 6 people and they currently count over 4000 subscribers. 2015 sales are expected to top $1.5 million. They recently moved to a 6000 square foot warehouse in the Dallas design district.
Will Foot Cardigan sock it to the Sharks?
Foot Cardigan Shark Tank Recap
Bryan and Matt enter the Shark Tank seeking 250k for 10% of Foot Cardigan. Then they rip off their pants!
As they tell their story, the camera pans across sock designs hanging on clothes lines. There are also mailboxes with each Sharks' names. Bryan and Matt empty the mailboxes and each shark gets a pair of socks.
As the Sharks ooh and ah over the socks, Bryan reveals they have $1.36 million in sales with over 6K subscribers. They have 3/6/9 month subscriptions. There is an ebb and flow to their subscriber base, with sales peaking around holidays.
The guys know their numbers: customer acquisition costs are $11. The cost per pair of socks is $1.35 and they sell for $9 plus shipping. Sales in 2014 were $900K and they are on track to do $1.5 million in sales in 2015. The reason they chose a sock subscription model is men are big sock wearers.
After listening to their answers, Mark sniffs out their tech background. Bryan has a background in conversion optimization and SEO while Matt's is in web design. Mark wants to know why they aren't crushing it and Bryan tells them they just came full-time less than a year ago.
Daymond says they could easily make them in the USA and asks if they're open to that. Bryan says they have a lot of competitors, but they manufacture and make their own, so they have better margins. Daymond  wants to know if he can pick his socks and Bryan explains they pick them out – that's part of their profitability because they don't need to stock a lot of inventory, they just want to get in front of more people.
Who's In?
Lori thinks they're cute but, they're doing the same thing as other sock companies, just in a different way. She's out. Daymond offers $250K for 22.5 % if he can get Bombas, the sock company he invested in back in season 6, can get on board. Kevin offers $250k for 15%, but he wants quarterly distributions. Troy says if it's a tech company, distributions don't make sense, s he offers $250K for 15% with no distributions. Troy wants the business to have a narrative as part of their branding and he thinks can help them.
Mark stays silent until after the break; he wants to know how big they can get. Mark offers $250K for 20% and says he can have them all set up in Dallas with offices, warehouses, and a computer software team. He asks Troy to split the $ 250K for 20%, and Troy agrees. Bryan says "dudes, let's do this!"
RESULT: DEAL with Mark Cuban and Troy Carter. $250K for 20%
Foot Cardigan Shark Tank Update
The Shark Tank Blog spoke with Bryan DeLuca five days after the original air date. The company more than doubled its subscriber base – and revenue – in the 96 hours following the broadcast. The deal with Mark and Troy did not close. For more info, read the Foot Cardigan Update post.
In 2017, they sold a majority stake of the business for an undisclosed amount to Detail Provisions Co., a Dallas-based holding company formed to acquire and build accessories brands. DeLuca stayed on as CEO until April, 2018. He is now VP of Marketing and Consumer Engagement at BIOWORLD Merchandising.
As of May, 2022, the brand is still going strong. Annual revenue is $4 million.
Posts About Foot Cardigan on Shark Tank Blog
Foot Cardigan Interview – Bryan DeLuca & Matt McClard
Foot Cardigan Company Information
Video