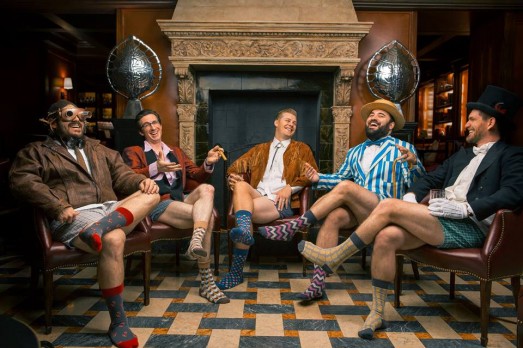 I spoke with Bryan DeLuca and Matt McClard the day before they were scheduled to appear on Shark Tank episode 703. They're two of the four guys behind the brilliantly zany Foot Cardigan subscription sock service; they're also the two guys who pitch the Sharks in what promises to be an entertaining segment: they actually tear their pants off!
"One of the most entertaining experiences of my life was explaining to the tailor how we wanted the pants to function," says Deluca. "I think she thought we were insane or strippers!"
While DeLuca and McClard may drop their pants in the Shark Tank, they aren't dropping the ball with their business. The two Dallas area men started the business with Tom Browning and Kelly Largent (son of NFL Hall of Famer Steve Largent) back in 2012.
How Foot Cardigan got Started
"I saw the Dollar Shave Club video," DeLuca explains, "and thought it was a great idea. I liked the video and the idea of selling a subscription commodity. So I thought 'what would be another commodity-like product we could sell?' I settled on socks because 73% of men wear them, they're a low-priced commodity, and they're kind of a pain to buy. We did a lot of testing," says DeLuca, "and found people would buy it."
DeLuca enlisted McClard, Browning, and Largent and Foot Cardigan was born. Three months after seeing the Dollar Shave Club Video for the first time, Foot Cardigan was live. All four men started part-time. As of the date of the Shark Tank airing, only Mr. Largent was still working a "real job."
"I've been full-time less than a year," says Bryan. "None of us could go full-time until we could replicate our salaries. We have nine kids between the four of us – we had mouths to feed. It's funny to think we were building a multi million dollar company as a side gig."
McClard and DeLuca are two self-professed web geeks. Bryan has a background in conversion optimization and Matt has a background in web development and design.
"There basically wasn't an internet when I was in school," jokes Matt, "I was a design major. I kind of naturally hit the ground running with web development. My recent background is in branding and website development. Bryan approached me about designing the website and I had the ability to turn it over quickly. Our first website was one page with three buttons. We made mistakes along the way, tried different things and just watched what happened and what worked. We're on our sixth version of the website."
"What you have now is a website created by two of the sexiest men in America!" adds Deluca.
A new website is set to launch, but the Foot Cardigan brain trust decided launching it prior to Shark Tank might be too much of a risk. "The new site gives our customers and our team a better experience," explains McClard.
Zany as a Brand
One thing that strikes any visitor to the Foot Cardigan site is it's, for lack of a better term, zany. "We tested for zaniness," explains Bryan. "Our customers run the gamut but we wanted to create a brand as an extension of who we were. We all had full time jobs, we're all family men. In our content the sarcasm and humor comes across as how you'd interact with your friends."
"I think we've done a good job of embracing the absurdity of running a subscription sock company," Matt adds. Our web content is a good mind meld of what happens when the four of us are in a room together. Where we come from from a branding perspective might seem haphazard from the outside, but it's about us on the inside."
"It's funny," adds Bryan, "our friends and family don't realize how big we are. They think 'oh isn't that nice, you're selling socks,' but we are on track to do $1.5 million in sales this year. Shark Tank might change that number – for the better."
Matt designs "about half" of the socks and a group of free-lancers do the rest. The socks are made in China and Turkey. Bryan has some experience in sourcing and had contacts in China. As the business expanded, they visited Turkey, where a large majority of their socks are made. In true Shark Tank fashion, when I asked what their customer acquisition costs are, Bryan quickly said, "Simple. Eleven Bucks."
The Shark Tank Experience
"The original idea to apply for Shark Tank came from Kelly," Bryan explains. "We filled out the form and it sat on my desk for like six months. We were doing well, but I wanted to find an investment, so in January I sent in the form and tomorrow, everyone will know what happened. We did a lot of preparation for the show. We gathered historical data on how much different companies sold after appearing, so we could be prepared. We currently have about 90,000 pairs of socks in our warehouse and our factory in Turkey is on alert for quick turnaround if we really blow it out."
"We also checked in with our web host," adds Matt. "They assured us we wouldn't crash, but I'm naturally skeptical when any web host company says that. We had a pretty good test run when we were on Good Morning America's Steals and Deals last spring, but we think Shark Tank will be bigger. The hosting company wants to do a case study on us when it's all over."
"The whole experience has been great," DeLuca continues. "We know Eric Bandholz from BeardBrand and we got to know the Two Guys Bow Ties guys and Don and Lydia from Nerdwax. The last two weeks we've been texting back and forth getting ready for tomorrow."
"When we taped, we knew we were taping with a Guest Shark, but we didn't know who. When our producer told us it's Lady Gaga's former manager, we thought maybe we'd focus on the four regular sharks. We went back to our hotel and researched him and realized he's the real deal, so we decided we'd focus on him too."
What's Next After Shark Tank?
"Obviously," says Bryan, "we'll continue to grow our business. Eventually, we'll be releasing more styles, athletic socks, short socks, and we are venturing into footwear. It wont be our bread and butter, but we're gonna give it a shot. We're using a start-up shoe manufacturer who'll produce small quantities for us, so it's low risk. I think we're most interested to see if any collaborations come about from show."
"Right now," adds Matt, "capitalizing on the publicity is our focus."
I had one more question for Bryan and Matt. They answer it on The Hot Dog Truck.