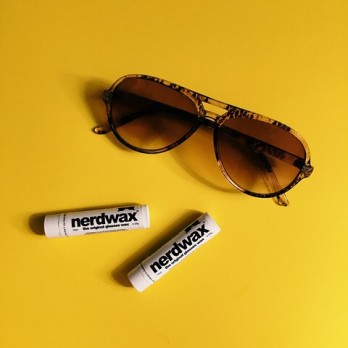 Don and Lydia Hejney are this week's Kickstarter entry into the Shark Tank as they pitch Nerd Wax, their successfully funded glasses wax, in episode 703. The Hejneys raised over $60K in May, 2014 to fund the first production run of Nerd Wax.
What is NerdWax? It looks like a tube of Chapstick and it contains an organic wax. The wax isn't for giving your glasses a clearcoat-like sheen, it's to keep them from slipping off the bridge of your nose. Simply apply a little Nerd Wax to the bridge of your glasses and the wax keeps them from slipping off. It's hypoallergenic, so it shouldn't make your skin break out.
Nerd Wax is now widely available online and at a few dozen eye care spots. They even have European and Asian retail outlets. They probably want money to scale up production to get into more retail spots.
My Take on Nerd Wax
The only time I wear glasses is when I use my readers or when I wear my shades. I haven't found slippage to be a big problem, so I don't know if I'd drop ten bucks for this product. Two of my daughters wear glasses and they have an issue with slippage, especially on hot days. They'd probably slip a tube into their purse or pocket for such an occasion.
Lots of other glasses wearing folks, at least the 2800 or so who backed the Kickstarter campaign, feel the same way. With international distribution, NerdWax just might be on to something. I do believe I'm IN.
Do Sharks Wax?
As always, sales will determine whether Nerd Wax gets a deal. Regardless of what happens, I know they field two offers: one from Mr. Wonderful and one from Troy Carter.
Troy Carter offers an $80K loan until he recoups $120K, plus he wants 10% of the business. Mr. Wonderful offers an $80K loan until he gets $240K back. Both offers would make most loan sharks blush due to the usurious interest rates involved! Whether other Sharks get involved or not, the Hejneys will have two offers on the table.
I think Lori will be out because they're "too early." Whether Mark and Daymond make offers remains to be seen, but Daymond appears to be taking notes while Mr. Wonderful and Troy duke it out. See the EXCLUSIVE PREVIEW here.