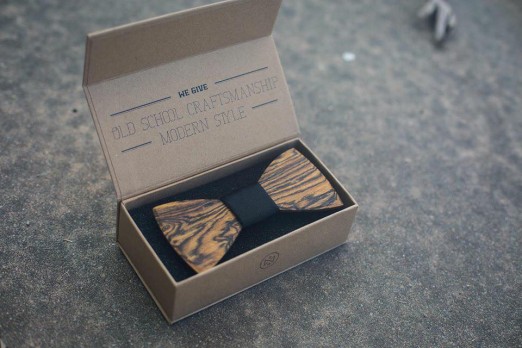 Adam Teague and Tim Paslay are the two guys behind Two Guys Bow Ties. These aren't your grandpa's bow ties either, they are made out of exotic wood. Each bow tie is hand-made and comes with an adjustable band with attached bow-tie clasps. Two Guys Bow Ties also makes wood lapel pins and wood brimmed hats. Based on the promo photos from this episode, the Sharks seem to like the hats.
Teague started with an Etsy shop back in 2012 and managed to sell over 900 ties. He teamed up with Paslay after the two met in church. Three years later, Two Guys Bow Ties is international. They have a strong brand presence in France and Seoul, Korea. They also have many celebrities wearing their ties.
Believe it or not, they aren't the only wood bow tie company out there, but they are clearly the leader in the space. Two Guys Bow Ties also does custom work for wedding parties or as corporate gifts. What groom wouldn't want a wood bow tie with his wedding date on it?
My Take on Two Guys Bow Ties
I'm not a tie guy. In fact, I rarely wear a suit, let alone a collared shirt. My standard outfit is basketball shorts and a tee-shirt. I only dress up for weddings and funerals, but when I dress up, I go ALL OUT (and I look damn good doing it)!
The Two Guys Bow Ties appeal to me. They're unique and very sharp-looking. I also like that they're made from scraps of wood, so they aren't chopping down trees to make them. I definitely like the fact that I don't have to tie them; these are the snazziest looking "clip-ons" I've ever seen.
I like the hats, too. I am a hat guy and own several fedoras I like to wear when I don my leather jacket. I'd love one of the hats. I think the two guys are on to a profitable fashion trend. I am IN.
Do Sharks Tie One On?
As I stated previously, the Sharks, at least the guys, LOVE the wood brimmed fedoras. Liking the product and liking the business are two different thinks however, especially in the Shark Tank. Two Guys Bow Ties looks like it has the elements of an invest-able business: they have a unique product, they're a leader in their niche, they have proof of concept, and they have sales.
They'll need more sales than the $40K or so sold through the Etsy Shop, and it appears they have that. With international distribution and a strong online presence on Amazon and other retailers, it looks like they are moving product. The only limitation is the ability to crank out bow ties. With a team of 8 (as of this writing) they should be able to tackle the Shark Tank Effect; I imagine they have plenty of product in stock, too.
If the sales are good, they'll field offers. My guess is Daymond and Troy Carter team up on this business; one way or another, one of those two Sharks will be involved.