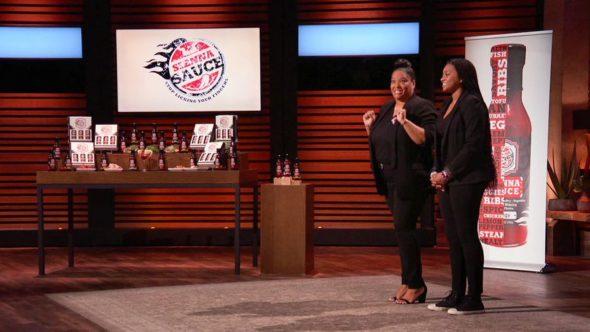 Monique and Tyla-Simone Crayton pitch the Sharks on Sienna Sauce, their "unbiased sauce" that can be used on anything, in Shark Tank episode 1214. Tyla created the sauce when she was 8 years old when her favorite wing place closed. She tried recreating their sauce but ended up making something better. When she and her mom moved away from New York City, they began selling wings out of their home in Sienna, Texas on Friday nights. That was in 2013 – in 2017 they started bottling the sauce and selling it.
Tyla is the self proclaimed "sauce boss" who runs her business like a Shark. While doing so, she's managed to maintain a 4.0 GPA to boot. There are three flavors of sauce: Tangy(the original flavor), Lemon Pepper and Spicy. The two latter sauces use Tangy as their base. Tyla is adamant that Sienna Sauce is more than a wing sauce or BBQ sauce – she says it's good on just about anything.
A bottle of sauce costs ten bucks. They're sold online in three packs for $28.95 online at the company website or Amazon. Tyla also has product in dozens of Texas based Spec's Wines, Spirits & Finer Foods. You can also find product in New York City area Wegman's and a variety of independent grocers in Texas, Missouri and New York. Tyla likely wants a Shark's help expanding distribution across the whole country. Will a Shark like this sauce?
Company Information
Video
Posts about Sienna Sauce on Shark Tank Blog
Sienna Sauces – Sauce for Anything
Sienna Sauce Shark Tank Recap
Monique and Tyla enter the Shark Tank seeking $100,000 for 10% of the business. They tell their story and hand out samples. The Sharks like the sauce. The women want a Shark to help them with manufacturing, distribution and branding. Tyla blows the Sharks away with her maturity and business acumen.
Kendra loves the sauce and Tyla. Kendra loves the women and the sauces. She says she can help them with what they need and she offers $100,000 for 20%. All the other Sharks quickly go out and Kendra pitches hard. She says she's the perfect partner and Tyla agrees to the deal.
Sienna Sauce Shark Tank Update
The Shark Tank Blog constantly provides updates and follow-ups about entrepreneurs who have appeared on the Shark Tank TV show. There is no evidence this deal closed, but the social media pages hype the company's appearance on the show and Tyla has been featured in many media interviews in the aftermath of the original airdate. ABC Entertainment Corporation is an investor as well, so there could be a deal in the works. The company was typically inundated with sales but managed it well. You can still buy sauce on Amazon and at Wegman's in New Jersey and New York and 19 other independent grocers in Texas, New York and Ohio. As of July, 2021, reliable revenue figures are unavailable.
The sauces have been showcased in a FedEx digital marketing campaign, chosen by Verizon as a sauce of choice in their corporate cafes, and Tyla has been featured on Kelly Clarkson, Good Morning America, and CNBC. Tyla has big plans. She's aggressively pursuing more retail outlets and she's diving into the foodservice and hospitality vendor space. She predicts they'll be a $25 million company by 2025.
As of August, 2022, the deal with Kendra did not close. Also in August, the company announced it reached $1 million in lifetime sales. The sauces are now available at over 450 retailers nationwide including selected Targets, Wegmans, HEB, World Market, independent grocers and Amazon. At this time, the company has raised $84,320 on the crowdfunding site Republic. The campaign ultimately raised $96,036 – 380% of their original goal. In February, 2023, Tyla said the deal was still in due diligence and she has not received a check from Kendra Scott. At this time, lifetime revenue has surpassed $1 million.
In August, 2023, it appears the deal with Kendra Scott is dead. Also in August, Tyla opened Sienna Wings, a chicken wing themed restaurant, in her home town of Sienna, Texas. She hopes to grow the business to compete with chains like Wing2U and Buffalo Wild Wings.
Shark Tank Blog will update this page as more information becomes available.