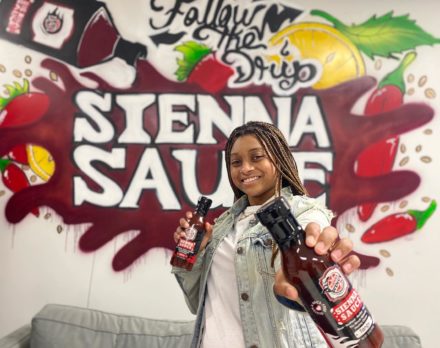 Sauce Boss Tyla-Simone Crayton made her first batch of Sienna Sauces when she was just 8 years old. She wanted to replicate the sauce from her favorite wing joint which had closed. Now she's a national teen entrepreneurial phenomenon. She has her product in WalMart, Wegman's and dozens of smaller grocery chains.
What really got the business started was a pop up restaurant she and her mom did out of their home in Sienna, Texas. From April to December 2017 they sold fried chicken wings – with the original Sienna Sauce on them – every Friday night to friends, family and neighbors. That little business netted them $48,000.
The following year, Tyla took $1500 and invested it in labels and bottles. She made sauce on the weekends and sold it to former wing customers. A local TV station got wind of her story and did a piece on her business and things really took off from there. Rapper and investor Hakeem "Chamillionaire" Serik heard about her and became an investor in the company. Beyonce also invested as part of her initiative to support black owned businesses.
Things are looking up for this sauce boss. She brings her Sienna Sauces to the Shark Tank in episode 1214 and hopes a Shark is part of the next chapter in this success story.
My Take on Sienna Sauces
I go out for chicken wings every Tuesday night. A local bar a few blocks from our house has fifty cent wing night on Tuesday. I never gave much thought to the sauce – I always get Buffalo style which is Frank's Hot Sauce and butter. We do make chicken at home a lot and I use a wide variety of different sauces – some bottled and some I mix up myself.
I will order this just to give it a try. The three flavors,  Tangy(the original flavor), Lemon Pepper and Spicy, look and sound good. At 29 bucks and change for a three pack on Amazon, I'll be ordering some today!
*** I did order the three pack and they are all YUMMY! ***
Will Sharks Like This Sauce?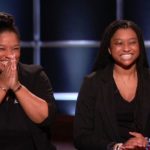 There is a press photo from this episode that shows Tyla and her mom in a "we just got a deal on Shark Tank" kind of pose. They're looking towards Mark's side of the stage, so I think they do a deal with mark. Mark loves working with young entrepreneurs, especially when they're from Texas.
I think all the Sharks will LOVE this story, but Mark will do a deal. Barbara and Lori already have similar products in their portfolios and Mr. Wonderful hates grocery related businesses. Look for a deal.