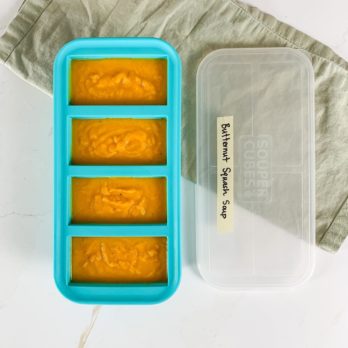 Michelle Sendowski first thought about the Souper Cube while figuring out how to store home made chicken broth. She wanted something that would give her precise portion control while easily fitting into the freezer. At the time, she was dating her husband, Jacob, who appears with her in the Shark Tank pitching their business. In 2017, when Michelle first had the idea for Super Cubes, he encouraged her to create and sell the product.
Jacob had a friend who made his living sourcing product manufacturing in China, so he gave him a call and pitched the idea to him. He liked it so much he partnered with the Sendowskis. The product is patented and comes in 2 cup, 1 cup, half cup and two tablespoon trays. They sell most of their product on Amazon, but they're also in some kitchen related retailers.
Both the Sendowskis still had jobs when they were starting the business and Michelle was getting her PhD! It appears they've gone full time with their business in 2020. They use a lot of partners to run their business: overseas manufacturing and packing and fulfillment centers. They'd love to add a Shark to their list of partners.
My Take on The Souper Cube
Essentially this is square shaped Tupperware made from food grade silicon. Nothing fancy, but a solid idea. I have so much Tupperware-like containers, I don't think I have any room for more! One of these days they're all going in the recycle bin and I'm gonna start from scratch. Until that day comes, I probably won't be a customer. One thing I will try is some of the dozens of recipes on the Souper Cube website – they look delicious.
My oldest daughter actually has these. She is vegetarian and makes a lot of soups and bisques. Her mother in law gave them to her for Christmas this past year and she face-timed me to show them to me when she saw the page on my website. She likes them.
Will Sharks Contain Their Excitement?
This has Lori written all over it. She has several silicon products in her Shark Tank Portfolio like Safe Grabs, Grypmat and Baby Toon. She has the manufacturing end of silicon products all wrapped up and it's the type of product she can sell – a real "hero."
I expect multiple bids from the Sharks on this one. I think Lori will put the hard sell on and ultimately do the deal.