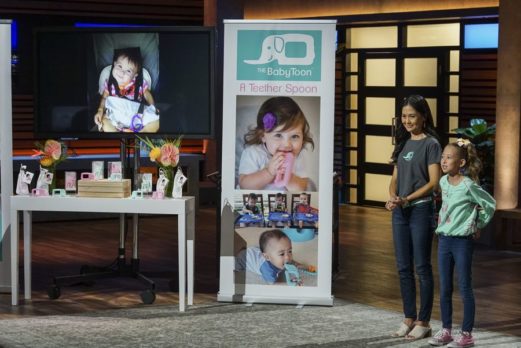 Cassidy Crowley and her mom, Lori, pitch The Baby Toon, their soft spoon for babies and toddlers, in Shark Tank episode 1101, the season 11 premier. Cassidy invented the Baby Toon when she was seven years old. She entered the Honolulu District Science and Engineering Fair where she was instructed to identify and solve a problem.
Cassidy found her problem when she got home that day. She noticed her mother got nervous whenever Cassidy's baby sister stuck a long, hard spoon in her mouth. This can be a choking hazard, so she thought about creating a soft spoon so he sister wouldn't gag on it. The added benefit was her invention calmed her mother too! She called her soft spoon The Baby Toon.
The spoon is made from FDA grade soft silicon. Its short neck limits how far it can go into a baby's mouth and the soft material is gentle on baby's gums. It also doubles as a teething toy. When she entered her product in the Fair, she got high praise and the people and teachers involved encouraged her to make and sell her invention.
Cassidy wanted to make her product in the USA, but there were no good moulding facilities in Hawaii, so she contracted with Extreme Moulding in Albany, New York. Extreme Moulding has a state of the art facility that makes silicon moulded products to FDA standards. They make many baby products and other silicon products as well. Cassidy is committed to making her product in the USA going forward and she plans to donate (at least) $1000 of her profits to the Kapi'olani Medical Center – the hospital where she was born.
Cassidy has high hopes and philanthropic ideals for her budding business, will a Shark share her enthusiasm?
Baby Toon Company Information
Video

Posts about Baby Toon on Shark Tank Blog
Baby Toon Shark Tank Recap
Cassidy and Lori enter seeking $50,000 for 50% of the business. Lori may be there to help her daughter, but Cassidy immediately steals he show and impresses the Sharks. She eloquently explains her story and how the product got invented. She also impresses the Sharks with her knowledge of silicon and her product's patents. Lori jumps at the opportunity and offers Cassidy $50,000 for 50% – exactly what she asked for!
Baby Toon Shark Tank Update
The Shark Tank Blog constantly provides updates and follow-ups about entrepreneurs who have appeared on the Shark Tank TV show. The deal closed with Lori and this episode had a rerun just three months after the original air date. Lori touts the product on her site and says:
"This amazing company was created by a brilliant and impressive 10 year old girl! The Baby Toon is the best patented spoon for babies! Made with 100% FDA grade silicone, this ergonomically designed soft spoon eliminates sharp angles and ends helping to make eating safer & easier for babies."
The company gets an update segment in episode 1213 where they'll announce a deal with baby brand Munchkin.