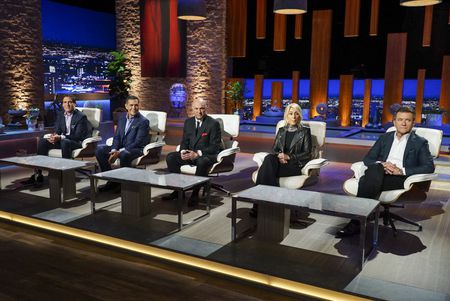 Shark Tank episode 1101 is the season 11 premier. This episode features guest Shark Daniel Lubetzky, the founder of KIND Foods, makers of The Kind Bar. The Season kicks off with four new entrepreneurs seeking a Shark's cash and advice to help grow their businesses.
Seven year old Cassidy Crowley and her mom, Lori,  introduce the Baby Toon, a food grade soft silicon spoon that's safer for feeding babies. Syed Naqvi and Sarah Paiji Yoo hope to land a Shark for Blueland, their sustainable cleaning products company that uses dissolving tablets instead of big bottles of liquids for cleaning supplies. Barrett Jacques and Crom Carmichael hope to re-invent the protein bar with Minus Cal, their nutritional supplement pills and bars with fat blocking Choleve. John Sorial hopes to wrap up a deal for TaDah, his falafel wrap business that gives a big chunk of its profits to organizations dedicated to social change.
Which business gets the first investment of the new season?
Tonight's update segment features a look at Dan Lubetzky's rise to entrepreneurial success.
The Sharks
---
Daniel Lubetzky
Robert Herjavec
There are 28 Shark Tank Episodes for Season 11. This season features more appearances by "guest Sharks," including billionaire Katrina Lake – Founder of Stitch Fix, Rohan Oza – "Brand Messiah" and founder of Vitamin Water,
Daniel Lubetzky – Founder of KIND, Matt Higgins – Entrepreneur and Miami Dolphins Vice-Chairman,
Maria Sharapova – Tennis Pro and Founder of Sugarpova and Anne Wojcicki – Founder of 23andMe.  Casting is currently closed, but it never hurts to get a head start on season twelve! If you would like to appear on the show, check out our Auditions and Casting information.
Episode 1101 – The Shark Investors and Entrepreneurs
The Shark Tank Episode 1101 entrepreneurs will make their best pitch to the panel of five Shark investors who will use their own money if they choose to invest. The Shark Investors negotiate on the spot without any previous information, which differs from typical negotiations between venture capital investors and entrepreneurial start-ups.
Companies pitching the Shark Investors must go through a rigorous due diligence process before an on-air deal is completed. Shark Tank Blog follow ups help you keep track of the companies that end up successful and the ones that don't complete their deal.
Thank you for reading SharkTankBlog, the number one site for Entrepreneurs, Investors and Fans. Our content updates multiple times day, giving you the latest information on Episode 1101, Season 11, and all other seasons and episodes.
Episode 1101 Press Release
Shark Tank: SEASON PREMIERE – Episode 1101
Sept. 29, 2019
SEASON PREMIERE
ABC'S 'SHARK TANK' RETURNS FOR ITS 11TH SEASON WITH BRAND-NEW GUEST SHARK, FOUNDER AND EXECUTIVE CHAIRMAN OF KIND, DAN LUBETZKY, IN THE SEASON PREMIERE, SUNDAY, SEPT. 29
"Episode 1101" – Entrepreneurs from New York City pitch their eco-friendly cleaning supply company which helps reduce plastic waste, while entrepreneurs from Nashville, Tennessee, introduce a science-based snack bar that blocks the absorption of fat when you eat it. An impressive 10-year old "kidprenuer" and her mom from Honolulu, Hawaii, pitch her safe and fun baby spoon design that eliminates the long sharp design of a traditional spoon. And an entrepreneur from Alexandria, Virginia, presents his frozen food brand that delivers authentic, plant-based East Mediterranean cuisine while also helping with social change on the season premiere of "Shark Tank," SUNDAY, SEPT. 29 (9:00-10:00 p.m. EDT), on ABC.
The Sharks in this episode are Mark Cuban, Kevin O'Leary, Lori Greiner, Robert Herjavec and guest Shark Dan Lubetzky.