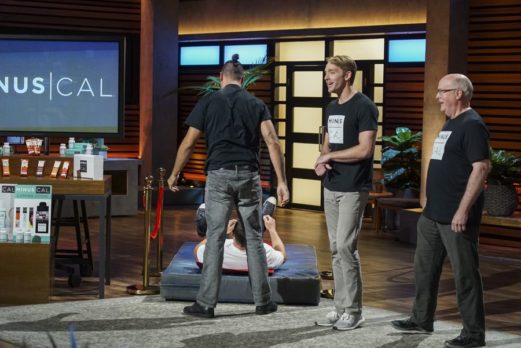 Barrett Jacques and Crom Carmichael want the Sharks to take a bite out of Minus Cal, their line of "fat blocking" protein bars, in Shark Tank episode 1101. The pair created their protein bars to help consumers lose weight by blocking fats from being absorbed into the digestive system. The secret ingredient in Minus Cal is Choleve, a "proprietary blend of fermented tea extract."
Choleve is not a drug, it's a supplement. The FDA calls supplements extracted from tea as "generally regarded as safe." It's the Choleve that gives Minus Cal its ability to make a fat blocking claim. It was originally developed as a way for people to lower cholesterol, but studies showed it also helped with weight loss.
By combining a  protein bar with a fat blocker, Jacques and Carmichael hope to turn the nutrition world on its ear. Clinical studies show Choleve "inhibits the break down of fat molecules by enzymes in the small intestine so that a percentage of the fat passes through undigested." People who eat MinusCal Bars for 8 weeks, along with a healthy diet and exercise, can expect to lose an additional 1-7 pounds, according to their study.
Jacques and Carmichael hope the Sharks will buy into their story and invest. Will a Shark want a bite out of this business?
Minus Cal Company Information
Posts about Minus Cal on Shark Tank Blog
MinusCal Protein Bars with Choleve
Minus Cal Shark Tank Recap
Barrett and Crom will pitch the panel of five Sharks on the business and its prospects for growth. They'll need to convince Mark Cuban, Kevin O'Leary, Lori Greiner, Robert Herjavec and guest Shark Daniel Lubetzky that the company is worthy of a Shark investment. A good business plan, good financials, and sales data will impress the Sharks, but they'll need to show them THEY are capable of running the company to "Shark standards." A full pitch re-cap on Minus Cal will be available on Shark Tank Blog once this episode airs.
Minus Cal Shark Tank Update
The Shark Tank Blog constantly provides updates and follow-ups about entrepreneurs who have appeared on the Shark Tank TV show. Once an episode has aired, we monitor the progress of the businesses featured, whether they receive funding or not and report on their progress. The Shark Tank Blog will follow-up on Minus Cal & Barrett Jacques and Crom Carmichael as more details become available.