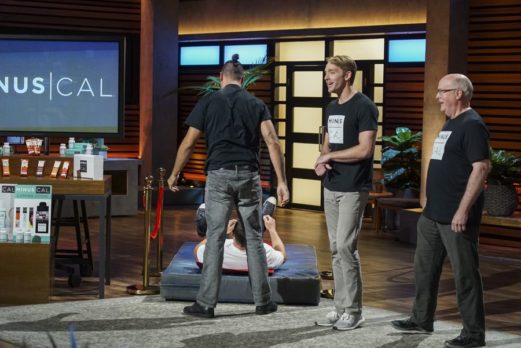 Barrett Jacques and Crom Carmichael want the Sharks to take a bite out of Minus Cal, their line of "fat blocking" protein bars, in Shark Tank episode 1101. The pair created their protein bars to help consumers lose weight by blocking fats from being absorbed into the digestive system. The secret ingredient in Minus Cal is Choleve, a "proprietary blend of fermented tea extract."
Choleve is not a drug, it's a supplement. The FDA calls supplements extracted from tea as "generally regarded as safe." It's the Choleve that gives Minus Cal its ability to make a fat blocking claim. It was originally developed as a way for people to lower cholesterol, but studies showed it also helped with weight loss.
By combining a  protein bar with a fat blocker, Jacques and Carmichael hope to turn the nutrition world on its ear. Clinical studies show Choleve "inhibits the break down of fat molecules by enzymes in the small intestine so that a percentage of the fat passes through undigested." People who eat MinusCal Bars for 8 weeks, along with a healthy diet and exercise, can expect to lose an additional 1-7 pounds, according to their study.
Jacques and Carmichael hope the Sharks will buy into their story and invest. Will a Shark want a bite out of this business?
Minus Cal Company Information
Posts about Minus Cal on Shark Tank Blog
MinusCal Protein Bars with Choleve
Minus Cal Shark Tank Recap
Barrett and Crom enter seeking $500,000 for 20% of their business. They do a little song and dance about how the product works and then hand out samples. When they begin explaining Choleve, the Sharks are perplexed. Once they started explaining its cholesterol cutting properties, the trouble starts.
They claim they are touting the bars as a nutritional bar, not a weight loss product, but Robert points to the words "weight loss" on their packaging. Mark gets into an argument with Crom about the validity of their scientific studies. In the end, all the Sharks back out and Mark tells the audience not to buy this "scam product." It was not a good pitch!
Minus Cal Shark Tank Update
The Shark Tank Blog constantly provides updates and follow-ups about entrepreneurs who have appeared on the Shark Tank TV show. Apparently, the public took Mark's advice. As of July, 2020, this company is out of business.