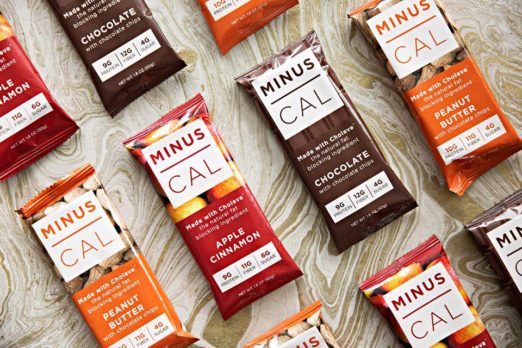 MinusCal creators Barrett Jacques and Crom Carmichael hope to convince the Sharks to invest in MinusCal, their fat-blocking protein bars and supplements. The pair developed their product with Choleve, "a proprietary blend of fermented tea extract that works by blocking the absorption of fat in the small intestine." Choleve occurs naturally in all tea, but you'd have to drink a gazillion gallons to get the benefits of the extract.
Choleve was originally used to block LDL cholesterol. It's a scientifically proven remedy for lowering cholesterol, but when JAMA Internal Medicine did the study, they found study subjects lost weight too. In the study MinusCal touts as their proof, researchers compared Choleve to Orlistat – a prescription fat blocker. Orlistat reduced fat absorption by 25%, but it has some nasty side effects. Choleve reduces fat absorption by 12% with none of the side effects.
Reducing fat absorption theoretically should help with weight loss. The less fat your body absorbs, the less it has to process and store. That's the MinusCal pitch in a nutshell. Their protein bars provide protein and other nutrients while the added Choleve blocks some of the fat, thus assisting in weight loss. If you just want Choleve without the bars, they sell it in pill form.
The Minus Cal bars and supplements aren't cheap. At $29.95 for a box of eight bars, they're nearly twice the cost of similar protein bars. Of course those other bars don't contain Choleve. Barret and Crom are betting a Shark will like their proprietary bars. It's likely not a coincidence that they are pitching on the night Dan Lubetzsky – founder of KIND Bars – is a guest Shark.
My Take on MinusCal
I don't doubt the quality or taste of their bars. I occasionally eat protein bars at my gym and I understand what they are for. I'm always skeptical about claims that eating a certain food or taking a certain pill will assist me with my weight loss. My oldest daughter is a registered dietician and she touts the benefits of a well rounded, nutritional diet for losing weight. "There is no such thing as a 'magic pill,'" she says.
For me, I'll stick to my daughter's advice and stick with a high protein, low carb diet. I might try a Minus Cal Bar to see if it's good, but I won't make it part of my regular diet.
Will Sharks Bite This Bar?
As I said earlier, it's not a coincidence Dan Lubetzsky is a guest Shark for this pitch. His KIND Bars are wholesome and chock full of natural ingredients. Unlike MinusCal, KIND makes no weight loss or health claims. They're also half the price.
The health claims will likely be the downfall of this pitch. The Sharks, particularly Mark and Lori, are always skeptical of any health related claims made by a product. Minus Cal does have some research behind it, but it's not as thorough as the Sharks usually want it to be. I am betting the Sharks pass and the Minus Cal guys may even get a bit of heat from one or more Sharks.