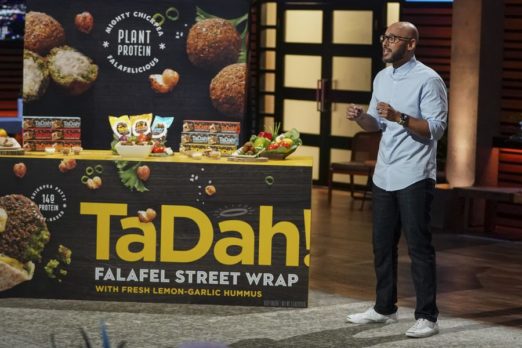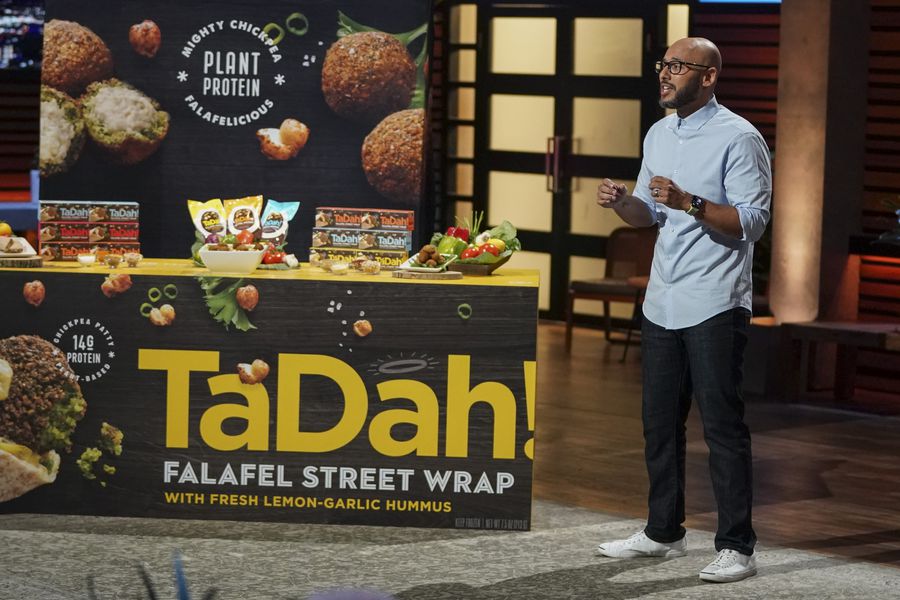 John Sorial wants the Sharks to take a bite out of TaDah, his falafel street wraps, in Shark Tank episode 1101 – the season 11 premier. TaDah wraps are "premium all natural Health-alicous chickpea fritters" with a variety of added ingredients. The wraps come in several flavors and he also makes falafel "poppers."
Sorial is the son of a family of immigrant restaurateurs. Growing up, he loved cooking his family's middle eastern cuisine. He went on to Johns Hopkins where he got a degree in chemical engineering and worked for several years in the corporate world. He felt his love for cooking calling him and he also wanted to create social change, that's where TaDah comes in.
John founded a non profit called Eat Good Do Good which became the genesis of TaDah. The company mission is to create "inventive, high quality, insanely delicious foods inspired by the international flavors we love." Sorial's mission doesn't stop there: the company donates a whopping 20% of their profits to organizations that engage in social change. Two of their favorites are the Mission Life Center and The Hope Clinic.
Currently, TaDah Falafel Wraps are only available in Whole Foods and other select stores in the greater Washington D.C. area. You can order online for just $7.99 for a box of 8 or $7.49 if you choose the monthly delivery option. Sorial probably wants a Shark's help with funding further production and wider retail distribution. Will a Shark wrap up a deal for TaDah?
TaDah Company Information
Video

TaDah Shark Tank Recap
John enters seeking $300,000 for 10% of his business. He hands out samples and the Sharks like them. Once the questions start, it's evident there are some serious problems with the company.
First off, he had a problem with his co-packer who couldn't keep up with demand. As a result, sales slipped from $2.3 million to $1 million. He also sold off 75% of the company – he only owns 25% of the business. They're also concerned about the 25% of distributed profits given to non-profit organizations. There are too many questions and the Sharks drop out – except for Mark and Daniel.
In an emotional exchange, Daniel offers $500,000 for a 25% piece of the business and he wants to buy out some of the other investors' portions. Mark offers $300,000 for 20% and a $500,000 line of credit. After thinking it over, John accepts Daniel's offer.
TaDah Shark Tank Update
The Shark Tank Blog constantly provides updates and follow-ups about entrepreneurs who have appeared on the Shark Tank TV show. The deal apparently closed. John says this of  Lubetzky:
 "Daniel and I really connected. It was this moment where he saw a lot of himself in my struggles and in my background, and so that right there was, I think, why he was able to feel so confident in making the offer that he did."
Indeed, TahDah experienced the Shark Tank effect with over 50,000 hits to the company website on the original air date. With all the publicity, John plans to use the influx of cash to ramp up production and expand his market reach. The product is available nationwide, but in limited outlets – that will change.
As of July, 2020, these products are widely available nationwide in grocers like Target, Whole Foods, Sprouts, Kroger, Publix, Harris Teeter and Wegmans. In July, 2021, the business raised $771,391 on WeFunder. As of May, 2022, the products are in over 3500 locations. The company had around $2.5 million in revenue for 2021 and John is projecting 14-16X growth over the next five years.
As of February, 2023, the products are only available at Whole Foods, Wegman's, Publix and Target. Annual revenue is $4 million.