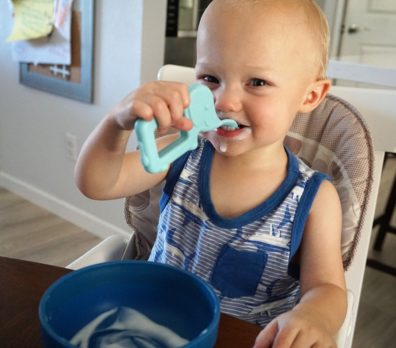 Cassidy Crowley invented the Baby Toon at age seven to solve a problem that was close to home. Her infant sister always got long handled, hard spoons jammed at the back of her throat. This was dangerous for the baby and it also caused her mom a lot of anxiety. When Cassidy entered the Honolulu District Science and Engineering Fair, she was asked to solve a problem. The resulting invention was the Baby Toon.
Baby Toon is a food grade, silicon spoon that has a short neck, so it won't go down a baby's throat, and it's so soft it doubles as a teething toy. This solved two problems in one: the spoon won't choke the baby and mom won't get so anxious. The invention was such a hit, the organizers of the fair encouraged Cassidy to manufacture and sell her invention. Cassidy, along with her no longer anxious mom, Lori, pitch the Baby Toon to the Sharks in the season 11 premier.
Cassidy, along with her parents' help, sourced an injection mold manufacturer in upstate New York that specializes in silicon products. New York is a long way from Hawaii, so it was one heck of a field trip to go see how her invention was made. Cassidy is dedicated to making her product in the USA, even if it's 3000 miles from her home in Hawaii.
Each Baby Toon costs $15 and they come in pink or blue. They're in stock on Amazon, but you won't find them in any retail stores – yet. Cassidy and her mom want a Shark to help them grow and expand into retail. Will a Shark want to bite on this spoon?
My Take on the Baby Toon
Wisdom comes from the mouths of babes, or in this case, good inventions do. I think it's amazing that a seven year old thought up this idea. It's doubly amazing that she considered her mom's anxiety when coming up with the Baby Toon. While I'm sure Cassidy had lots of help from her mom and dad, she's a pretty accomplished young entrepreneur.
When my oldest (now 26) was starting to use a spoon, she inadvertently stuck it down her throat which cause her to have a gag reflex. She projectile vomited her peas all over the kitchen table! It was a mess and it caused my wife and I to be more diligent while feeding her. If the Baby Toon were available 25 years ago, I would have bought one. I'm in.
Do Sharks Use Spoons?
Cassidy and her Baby Toon are a slam dunk to get a deal. When a kid comes in with a good product and an accompanying good story, they almost always get a deal. The question is, which Shark invests?
Mark is always fond of young entrepreneurs and he loves giving the kids a chance. He'll bid for about 25-30%. Lori has many silicon products in her portfolio and this product is in her wheelhouse as far as marketing goes. She'll bid, but she may want to manufacture overseas which would be a deal killer for Cassidy. Dan Lubetzky may bid, but I'd look for him to partner with Lori since he's still the "new guy."
Robert and Mr. Wonderful may bid too, but bids from Mark or Lori will likely be more favorable to and palatable for Cassidy. After Sunday. September 29, this kid's life is going to change, BIG TIME.