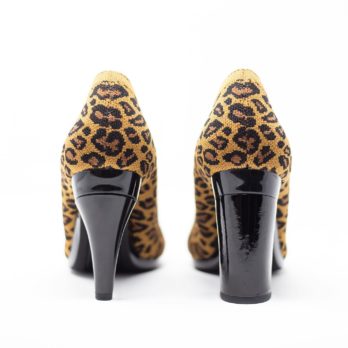 Haley Pavone invented Pashion heels after getting her foot impaled by a stiletto heel. She'd taken her own heels off because they were hurting her feet while dancing. The next day, she started researching how to make a high heeled shoe that could convert into a flat. That was 2016. Four and a half years and 30 patents later, she has her business which she started in her dorm room entering the Shark Tank.
Heels are not "sensible shoes." They are for glamour and looks, not comfort. In fact, most foot pain in women is caused by wearing heels. Pashion heels come in regular or stiletto style and come off with a twist. There's a rubber sole that slips onto the heel-less flat. Each pair of shoes comes with a little bag to carry heels and/or soles in it. The shoes cost between $140 and $195 depending on the style. Most can sport a block or stiletto heel.
A lot of other folks like Haley's shoes. She won Cal Poly's Annual Elevator Pitch Competition, she won $15,000 at the annual Innovation Quest competition and got accepted to the SLO HotHouse Summer Accelerator program, a startup boot camp at Cal Poly. She also raised $1.7 million from a variety of venture capital companies. Now, she's hoping her shoes are the right fit for a Shark.
My Take on Pashion Heels
I don't feel one way or another about heels. My wife never wears them. She was a competitive swimmer and never wore them because she was afraid of hurting herself. I saw her try to wear heels once and she did not pull it off well. That said, heels are sexy on the right woman.
As for the product, I have an old friend who was a bigwig at Reebok and New Balance and her standard reply to someone going into the shoe business is "why the *&@% would anyone want to go into the shoe business?" She claims it's a very difficult business to get a foot hold in – no pun intended.
I remember another company in the Tank that was a heel that converted to a flat. Way back in season four, Jeska Shoe Company secured a deal with Daymond. In 2014, a little over a year after doing the deal, entrepreneur Jessica Haynes wrote this on her Facebook Page:
"Hey friends! It's Jessica with JesKa Shoe Company updating you on the start-up business I pitched on Season 4 of ABC's Shark Tank. First of all, I want to thank all my family, friends and fans that stood by me in this venture. However, at this time, I must inform you that I have reached a turning point in this journey. While I will always cherish the experience and the dream of the JesKa shoe, I must admit that this process has reached diminishing returns. I received so many positive responses to the JesKa shoe idea; I actually hung in there longer than I should have. But the time has come for me to close this door and take with me the experience and values it has taught me."
Even with a great product and a great Shark, the shoe business is tough.
Will Sharks Invest In These Heels?
Given the shaky history of shoe deals in the Tank, it's hard to predict a deal for Haley. I can't recall a deal for a shoe business that went well in the Tank. One company, Xeroshoes, turned down a deal in season four and went on to tremendous success. I own several pair and I love them.
But what about Pashion? Will the veteran Sharks look back as I have and refrain from bidding or will they come in with high offers (Daymond bid $70K for 70% of Jeska)? Kendra Scott knows the fashion world, perhaps she'll have some interest. Haley, who was a teenager when Jeska aired is about the same age as Miss Haynes when she appeared on Shark Tank. She has come further than Jeska Shoes without a Shark, so perhaps she doesn't even need one.