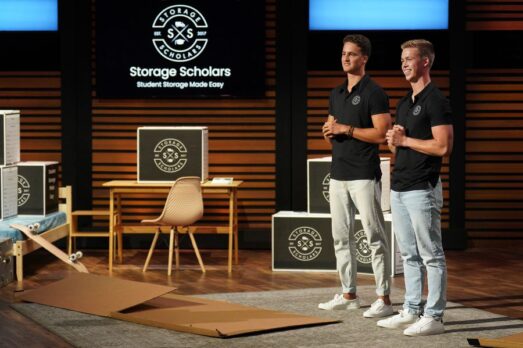 Sam Chason and Matt Gronberg hope to make a move with Storage Scholars, their packing and storage solution for college students, in Shark Tank episode 1404. Chason and Gronberg started the business in 2017 in Chason's dorm room at Wake Forest. They served 64 customers that year with no complaints. Chason was driven to start a business because he didn't want to rack up a lot of student debt.
He got his inspiration from observing foreign students who would buy things like bedding and furniture but didn't have a way to economically store or ship it. Any college student has a hectic time packing up their dorm room at the end of each semester. Storage Scholars makes it far less hectic.
When you sign up for an account, you let the company know what you'll be storing. They'll send complimentary boxes for you to fill with your stuff. Simply pack up the box, schedule a pick-up and they'll come take it to their local storage facility. The boxes cost $17 per month to store with a 4 month minimum. They'll also ship your boxes for the cost of shipping plus an added fee. The company also stores luggage, furniture and other items for a variety of fees based on the size of the item. Right now, they're available on a few dozen college campuses. They likely want a Shark's help scaling nationally.
Company Information
Video

Posts about Storage Scholars on Shark Tank Blog
Storage Scholars Shark Tank Recap
Sam and Matt get wheeled out in a large Storage Scholars box and they pop out of it. They're seeking $250,000 for 5% of their company. They talk about the trials and tribulations of moving out of your college dorm room and how their company solves the problem. They explain how their process works and how they work with universities to get access to student rooms. The business allowed them to graduate college debt free. Next, the questions start.
Responding to a question from Kevin, they say they're on 23 campuses from New York to Texas and the first campus was their alma mater – Wake Forest. The average move costs $559 and the labor, supplies and storage costs. The company's cost is $199. Their strategy is to partner with colleges to get their full endorsement for a "pack it, lock it and leave it" service. They're the only company doing this type of service.
Their custom built technology provides the logistics for what they do and they credit it for their 4.8 star rating. The technology is a web app built by Matt's brother. It automates all their processes so they can do 3300 moves on 23 campuses the same week of the year and "nail it every time." The Sharks are impressed.
Lori wants to know how they came up with this and Matt explains how his parents are both teachers who value education. When he chose Wake Forest which costs $70,000 per year, he was looking at $100,000 in student loans. He always knew when he got to college, starting a business was his path to financial freedom. He saw a gap in the market and he had friends who wanted to make money, so he combined the two together and created Storage Scholars.
They went door to door and got made fun of but managed to get 64 customers and made $18,000. Matt came in a year later and helped found the business. Matt worked 106 hours in a week to prove his worth and he joined the business with a 30% ownership stake. They have no outside investors and both young men are full time in the business.
Let's Talk Numbers
This year (2022), they have $1.826 million in sales. Their biggest school is Wake Forest where they have 700 students using their services. SMU is their newest school and they have 269 customers there. Growth will come from partnering with more universities.
Kevin is the first Shark to make an offer: $250,000 for 20%. Lori says she thinks it's a great idea but the guys need to give "their valuation an evaluation," she's out. Daymond says he likes this and he matches Kevin's offer. Robert says the guys are super impressive and to grow they need to go faster. Robert offers $500,000 for 20%.
After a commercial break, Daymond and Kevin offer $500,000 for 40%. Mark offers $250,000 for 12%. He says he has connections with schools and he'll make the phone ring. Matt says he knows college debt is a big issue for Mark. They counter Mark with $350,00 for 10% and Mark says he'll do $250,00 for 10%. They do the deal with Mark as I predicted.
Storage Scholars Shark Tank Update
The Shark Tank Blog constantly provides updates and follow-ups about entrepreneurs who have appeared on the Shark Tank TV show. The deal with Mark closed before the segment aired. Gronberg told BizJournals a week after airing that they plan on "hiring new employees earlier in the year and hiring executive-level employees, such as directors of technology and marketing and an additional campus teams training manager" with the investment from Mark. He told the same reporter there were two more deals in the pipeline "coming soon." Since taping their segment, they've added a shipping component to their service.
Chason told The Winston Salem Journal the company would like to extend the relationship with their student customers beyond college and maybe even evolve into a global moving and storage business. As of August, 2023, they have a presence on 73 college campuses – double what they had when they originally aired in October, 2022.
The Shark Tank Blog will follow-up on Storage Scholars & Sam Chason and Matt Gronberg  as more details become available.