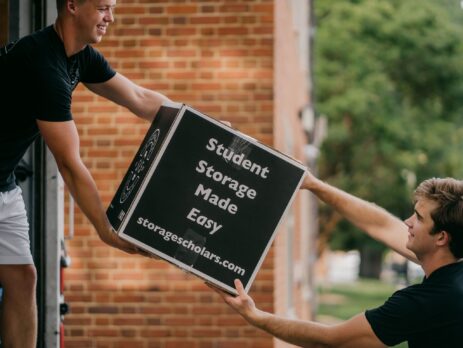 Sam Chason and Matt Gronberg started The Storage Scholars out of Sam's freshman dorm room at Wake Forest. They saw a real problem and came up with a real solution. The problem is, at the end of each college academic year, students have to schlepp their belongings back home and then schlepp them back to school in the fall. The further you live from your University, the bigger the pain in the neck this process. Sam actually noticed foreign students buying everything they needed (bedding, furniture etc) once they arrived at school.
There had to be a better way and these two guys came up with it. Students log in to their website and indicate what they need stored. The Storage Scholars will drop off as many boxes you need for free, then they'll pick them up and store them for the summer. They'll also store furniture, mini fridges and other items. Boxes cost $17 per month to store, other items vary according to size.
The company accomplishes this with on campus "co-founders." These are students on their own campus who orchestrate the service on the local level. Co-founders get a hands on look at running a business and the company's goal is at the end of their tenure, they'll really want to. Co-founders are responsible for every aspect of the business like marketing and hiring and more. The Storage Scholars are currently on a few dozen campuses. They likely want a Shark's help going national.
My Take on The Storage Scholars
I'm actually really excited about this pitch. It's the first time I "met" a Shark Tank entrepreneur prior to airing. Matt's parents used to hang out at Houlihan's in Framingham, Massachusetts where my wife worked. They befriended her and actually ended up renting my wife's parents' house for a number of years. When ever something needed fixing, I'd usually head over to the house to attend to the problem. That's where I "met" him. He won't remember me because he was two or three years old at the time. Despite that, I'm excited for him and for Fred and Laura.
As for the business, I think it's a great idea. When I attended Marquette University in Milwaukee, I had to ship my stuff home to Boston at the end of the year. It was a pain in the neck and it was expensive. When I transferred to UMASS, I bought a pick-up truck because I ran a landscaping business during the summer. At the end of every semester, I was very popular. I never had to buy my own beer the last two or three weeks of any semester because I was always helping people move their stuff. Matt and Sam are really on to something here and I think they're going to be very, very successful.
Do Sharks Get Into Storage?
I'm thinking Sam and Matt get a deal here and I think I know which Shark makes an offer. It won't be Daymond, he'll go out because it's not anything he can offer help with. Lori's more of a products person, so she'll go out too. Robert might maakke an offer, but it'll be too "Sharky for the guys to accept. Mr. Wonderful might too, but Mark will win the day.
The reason I think Mark goes for this is it's a logistics play. He invested in Rent Like A Champion a few years back and got a nice exit out of the deal. That business was like AirBnB, but for rentals in college towns. They scaled that business quickly. This is a similar sort of business. It's going to require good technology and logistics and Mark can deliver that. Another reason I think they do a deal with Mark is the company recently moved to Austin, Texas – just a few hours from Mark. They also told and Austin reporter they'll be doubling the size of the business over the next 12 months. Sounds Sharky to me.